Cocktails to Go in Bars & Restaurants Legalized in PA During Lockdown: Here's Where to Get Them in Philadelphia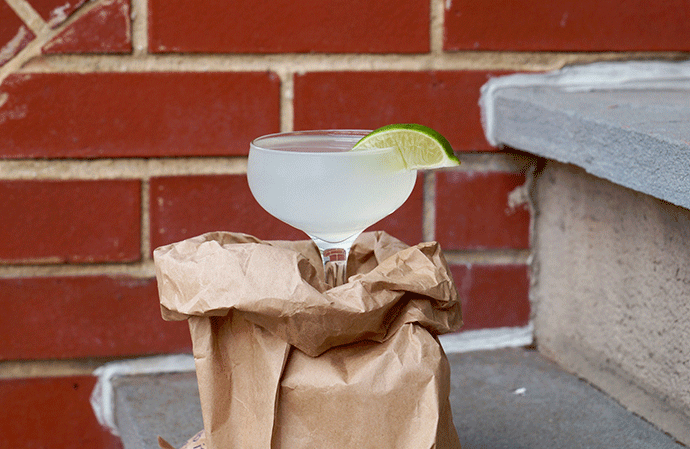 For the first time ever, you can to get to-go cocktails in Pennsylvania.
On Wednesday, May 16, the Pennsylvania state Senate unanimously approved a measure that would allow bars and restaurants to sell to-go cocktails, which is commonplace in other states but would be a huge victory in Pennsylvania thanks to this state's notoriously draconian liquor laws. On Thursday, May 21, Governor Tom Wolf signed the bill into law.
The bill states, "HB 372 would allow licensees with a restaurant (R) or hotel (H) license that have lost more than 25% of average monthly sales during the pandemic to serve sealed containers of mixed drinks in servings of 4 to 64 ounces before 11 p.m."
Any bar or licensed restaurant would be able to sell mixed drinks under this law, which would be a huge step up from the drink mixers restaurants have been selling so far. Hot spots like Barbuzzo, Bud & Marilyn's, Rosy's Taco Bar, and more have been selling freshly squeezed juices and other mixers for thirsty customers, but the customer has had to provide their own booze, which is proving pretty hard to get thanks to the Pennsylvania Liquor Control Board's curbside pickup and online ordering snafus.
Alas, this won't last long; the measure will be temporary, making it one of the only positive things to come out of the coronavirus pandemic that shuttered restaurants in Philadelphia, throughout Pennsylvania, and across the world in March. Per the bill, "the takeout drink sales would be permitted only during the emergency and for the period after the emergency during which a licensee is operating at less than 60% capacity."
Philly's best cocktail hotspots are ready to serve you at home, so here's where you can get your mixed drink fix throughout the city, from hole in the wall dive bars to upscale cocktail bars.
This is an ongoing list, so check back for updates.
Are we missing something? Fill out this form to submit new locations.

Where to Get Cocktails to Go in Philadelphia
1 Tippling Place - 5 rotating premixed cocktails, ice and garnish on side. Two drink capped bottles. Starting menu: Penicillin, Negroni, Mexican Strawberry, Ivy Gimlet, Wall St. Special orders with 6 drink minimum. $9-$14 per drink. Order via website. Pick up on site.
12 Steps Down - offering cocktails to go
American Sardine Bar - Pomegranate Cosmo, Passionfruit Margarita, Boozy Cider, Mezcal Old Fashioned & more! Batched to 1-4 servings. $15-40. Order online & pick up at the window on 18th St.
Barbuzzo - Barbuzzo's best-selling cocktail – Vodka Basil Lemonade – is topping the list, but don't miss the classic Sazerac, Negroni, Moscow Mule (kit for 2), and Sangria Trio
Barcelona Wine Bar - offering cocktails to go
Bar Hygge - Premixed 12oz ($10) and 32oz ($40-45) cocktails - Seasonal Punch, Aperol Spritz, Gettin' Hygge With It. Call or stop by to pick up.
Buena Onda - Enjoy their margaritas in single serve or pitchers. Choose classic or seasonal flavors like Strawberry, Mango, Prickly Pear, and more. Pair with tacos, chips and guac or salsa for the perfect night.
The Bottle Shop - East Passyunk's premiere bottle shop will serve rotating cocktails to go, sangria, margaritas and more in 32 ounce sizes. They will also feature their popular frozen Boozy Popsicle in Pina Colada and Strawberry Rose flavors.
Brauhaus Schmitz - Orange Creamsicle- Vanilla Liqueur, cream, orange juice $12 a quart; Don't hasel(nuss) the hof- Hazelnut Schnaps, Grand Mariner, bitters over ice $15 a quart; German Bier- Draft and Bottled prices vary, but 50% off. Call ahead or grab stuff to go when you place an order for prepackaged meals. Orders also available on website.
Booker's Restaurant & Bar - 8 oz. cocktails to go, made to order. Mimosa $9, Vodka Lemonade $10, Whiskey Ginger Jawn $8, Jack Apple Fizz $9, Revive Me $10, Blackened Bourbon (2 servings) $12, Booker's King Margarita (2 servings) $12.
Bottle Bar East - We are currently selling 16oz crowlers of moscow mules ($10) and watermelon margaritas ($15). Order delivery or pickup.
Bud & Marilyn's - Frosé is BACK! So is the Regal Beagle, the Lakeside, and the classic Negroni and Moscow Mule.
Cantina Los Caballitos - Classic Lime, Strawberry, Blood Orange, Passionfruit, Mango Margaritas $28 quart; Frozen Margs $28 quart; Endless Summer Margs $30 quart; White Sangria $25 quart.
Cantina Dos Segundos - Classic Lime, Blood Orange, Strawberry, Passionfruit, Mango Margaritas by the quart $20/$10 for booze-free.
Cavanaugh's Rittenhouse - frozen cocktails to go
Charlie was a sinner - also offering Happy Hour Monday-Friday from 3:00-5:00 some of the Happy Hour deals in include a mix and match cocktail six pack for $48, buy one six pack of beer get the second half off, wine and food deals.
Crybaby Pasta - Cry Baby Pasta is offering an extensive and curated selection of wines to go, as well as cocktails including L'Aventurra (Bourbon, lofi, luxardo amaro, Carpano antica, bitters), Classic Negroni and other signature and classic cocktails.
Devil's Den - Devil's Den is offering a selection of five cocktails-to-go, including a Bloody Mary, Grapefruit Cucumber Cooler, Summer Sangria, Pickletini and Negroni. The cocktails are available for pickup Thursday and Friday 2-8 pm and Saturday and Sunday from 12-8 pm. All items must be pre-ordered by calling 215-339-0855 and picked up at Devil's Den's front window on 11th St.
Dim Sum House - University City and Rittenhouse locations will offer their signature cocktails inspired by old school kung fu/martial arts movies and of course, cult classics like Big Trouble in Little China. Plus, look for some classic additions and a full bar.
Dock Street Brewery South - Two classics- Mojito And Quarantine Margarita and Two of signature - A Stroll Through the Pines and 76 and Always Sunny (all $9). Order individually or in a Stoop Kit online at dockstreetbeer.com
El Camino Real - 16 and 32 oz margaritas and rotating frozen cocktails to go
The Fairview - Six pack & singles. Bottled wine. Cocktails: mojitos & margaritas ....flavors available (make it a double for $5!). Call ahead or just stop by, 2-8pm.
For Petes Sake - offering cocktails to go
Forsythia - Forsythia is offering five to-go tipples, including the popular RBG&T, a White Negroni, Old Fashioned, T.Oliver with house-made sour apple cordial and Bubbles & Pamplemousse, a bottle of sparkling wine with grapefruit liquor and citrus bitters. Orders can be placed by calling the restaurant at 215.644.9395. Forysthia is open Wednesday-Sunday, 4-8 pm.
Frida Cantina - Flavor margaritas for $7.00 plus regular mojitos, palomas, and micheladas.
Good Dog Bar - Very well-known for its beer selection, Good Dog also has some killer cocktails. Starting with the classics (Margarita, Bloody Mary, Bloody Maria, Cosmo) and moving into the GD originals (Grapefruit Crush, First Rule of Fight Club, Hasta La Vista Baby, Incognito Mojito, Watermelon Lemonade), there's much to enjoy.
Harper's Garden - Harper's Garden will serve their top signature and seasonal inspired cocktails through their sister property Rosy's Taco Bar, with Liquid Persuasion, Blackberry Smash and Bloody Mary, among others. Pricing is $26.00 for five servings for each, with choice of Titos Vodka, Stateside Vodka, Bluecoat Gin or Jim Beam Bourbon. Plus a full bar available as well for other cocktail and beverage requests.
Hawthornes Beer Cafe - Look for over a dozen cocktails including Maple Old Fashioned, Black Manhattan, Negroni, Strawberry Basil Smash, Tequila Mexcal Bomb, Bloody Marys, Mimosas and Sangria, plus four packs of city wides and mexi wides, with cocktails ranging for single servings $8-10 or kits for up to four people from $20 to $32. Delivery will be available on QuickSip. These are Offered from 11am-11pm, 7 days a week.
The Institute - Bee's knees, Old Fashioned, Watermelon Margarita, and a Rum Punch
ITV - 6oz bottled cocktails and a 1L Chai Infused Painkiller
Jet Wine Bar - Jet Wine Bar is saying cheers to the unofficial start of summer with to-go sangria. Summer White and Spiced Red are currently available with a rosé coming soon. The sangria can be pre-ordered online and picked up during Jet Wine Bar's opening hours: Sunday-Thursday 2-7 pm and Friday and Saturday 12-7 pm.
Jose Pistolas - Center City's Jose Pistolas will served Traditional Margarita, The Diablo (Jalapeno and Spiced Margarita) and Flavored (Guava, Mango, Pomegranate, Strawberry and specials). Traditional margaritas run $20 for 16 ounce and $30 for 32 ounces, with flavored $23 for 16 ounce and $35 for 32 ounce. Full list of standard bar spirits and drinks will also be available.
Khyber Pass Pub - Frozen Orange Crush, Louisville Lightning, Passionfruit Margarita. $25-$35 quarts/ $15-$20 pints.
Leda and the Swan - Leda and The Swan will pour cocktails to go out of sister venue Vesper Center City - where they are also centralizing food for the hospitality group. Look for nearly a dozen signature craft cocktails inspired by stories from mythology like the Lilith (Tequila, Beet Shrub, Lemon, Sea Salt) and the Shiro (Mezcal, ginger syrup, lemon, togarashi), plus Old Fashioned and Tequila Old Fashioned. All cocktails are $36 and serve up to four people, available Tues. to Sun. 2pm to 8pm, with ordering info on wecooked.com.
Little Nonna's - Nonna's Punch sounds like just the fuel you need to spend a day in the kitchen like a proper Nonna would. If you're having a less ambitious day, give the Sazerac, Negroni, or Sangria a shot.
Lloyd Whiskey Bar - Classic and signature cocktails, featuring all spirits! Pina Coladas, Margaritas, Negronis, Manhattans, 4 Old Fashioned variations. Order at lloydwhiskeybar.com or call 215-425-4600.
Lolita - Traditional Lime and Blood Orange Margaritas are all you needed and wanted with your order of Cholula Fried Chicken Tacos and Guac
Manatawny Still Works - On East Passyunk, walk to the window of the MSW tasting room and bottle shop and order up. The cocktail menu will change weekly, and will serve four. Follow along on Instagram (@manatawnystillworks) for menu updates.
Nick's Bar and Grille - This Old City staple and sports bar will pair Philly favorite dishes and smoked meats with cold beer and no cocktails to go including a half dozen frozen drinks for $7 (Creamsicle, Margarita, Pina Colada, Daiquiri and more) plus city wide $6, beer buckets $14, Truly buckets $15 and six packs to go. Look for expanded cocktail menu coming soon as these launch!
The Olde Bar - Offering a variety of cocktails like FishHouse Punch, Summer Gin Punch, and more in a variety of sizes ranging from single serve, to pitchers. Order online or by calling 215-253-3777.
Oyster House - Try Oyster House's signature cocktails including the Oyster House Martini with house-made dry vermouth, and Kelly's Punch, a crushable passionfruit punch.
Pinefish - mixed drinks and beer to go
Pistola's Del Sur - East Passyunk hot spot Pistolas Del Sur will feature Traditional Margarita, The Diablo (Jalapeno and Spiced Margarita) and Flavored (Mango, Strawberry, Blackberry and rotating frozen). Traditional margaritas run $20 for 16 ounce and $30 for 32 ounces, with flavored $23 for 16 ounce and $35 for 32 ounce. Full list of standard bar spirits and drinks will also be available.
Philadelphia Distilling - selling cocktail kits to go. Everything included except the spirits, which you can also order from Philadelphia Distilling.
The Plough & The Stars - Beer, wine, and cocktails. Now featuring new frozen drink menu. Order direct from website or ring bell at front door.
Positano Coast - large format (32oz priced $25-$40) offerings of some of their classic cocktails: The Process, Lemon Drop and a jalapeño infused margarita. Plans to add weekly features and varied portions as demand grows. Call 215-238-0499 with orders, questions or requests.
Rex 1516 - Rex 1516 is offering five cocktails-to-go, including their popular Hurricane, a Southern Whiskey Sour, Ancho Chile Margarita, and more. Bloody Mary and mimosa kits are also available during brunch. Each package boasts premixed ingredients, garnishes, an insert with instructions on how to measure out the pour, as well as suggestions on how to prepare and serve them.
Rosy's Taco Bar - Rosy's Taco Bar will serve their signature margaritas (classic, strawberry, blood orange, habanero and pineapple), sangria and also offer a full bar of standard bar drinks that will be added to the website. Margarita pints serve four and run $24-$31, with quarts serving eight and running $48-$62.00. Sangria will be $20 for four servings.
Rouge - "The New Normal": Bourbon, Peach, Honey & High Life Simple Syrup $15, "Lockdown Lift" Blanco Tequila, Strawberry & Cucumber Juice, Basil Simple Syrup. $15
Sancho Pistolas - Fishtown's Sancho Pistolas will feature Traditional Margarita and Flavored (Guava, Spicy Mango, and Blood Orange. Traditional margaritas run $20 for 16 ounce and $30 for 32 ounces, with flavored $23 for 16 ounce and $35 for 32 ounce. Pickled watermelon coming soon. Full list of standard bar spirits and drinks will also be available.
The Sidecar Bar & Grille - Happy Hour order online, pick up 4pm -7pm Monday - Friday, $6 pint mixes house drinks, $12 qt mixed House drinks, Plus $15 growlers, $12 select 6 packs
SouthGate - Enjoy all your favorite cocktails with a Korean twist such as Sangria with plum fuki, Soju Punch, Kimchi Bloody Mary, and Housemade Soju (spicy or yogurt). And if you're looking for something a bit stronger, enjoy an Old Boy, with whiskey, amaro nonino, aperol, Dom Benedictine, and laphroaig.
Standard Tap - selling to go food, bottles wine, 6 packs, growlers, cocktails, specialty picnic baskets, and retail items.
Stateside Vodka - infused vodkas: Jalapeno, raspberry and La Colombe coffee
Tio Flores - South Street's Mexican restaurant and bar will feature a selection of Traditional, Traditional Hot and Spicy, and Flavored Margaritas, Sangria, Beer and other beverages. Cocktails run $8-10 for single servings and $36 for servings for four to six. Margarita flavors include Blood Orange, Strawberry Jawn and Prickly Pear. Sangria flavors include Red Blood Orange with Prickly Pear, and White Strawberry Limonada.
The Barn at 49th and Baltimore: 16 and 32oz cocktails to go: Margaritas, Long islands, West Philly Sucker Punch, Tequila sunrise, & Made to order cocktails. 16 and 32oz draft craft beer, Domestic and craft beer 6pks. From 12pm til 11pm, 7days a week
Tradesman's & Blume - Tradesman's will house food, beer and cocktails for all Craft Concepts Group brands - with whisky cocktails from Tradesman's running $18-$22 for 3-6 servings, and Blume cocktails including the Tropical Cloud with fresh-made cotton candy, with prices ranging from $13 to $22. Tradesman's will also sell Blume alcoholic freeze pops for $9 with Hidden River Gin, Blueberry and Lemonade. Tradesman's is also serving to go beer with top selections from Tradesman's, BRU, Finn McCool's and Uptown Beer Garden.
Tria Cafes - offering cocktails to go, as well as wine and beer.
Triangle Tavern - Negronis ($30/half pint), Bloody Marys ($25 quart / $13 pint); Draft Wine ($30 quart); Frozen Wooder Ice ($20 quart); Strawberry Basil Collins ($32 quart / $18 pint)
Varga - offering cocktails to go
Warehouse on Watts - food, cocktails to-go, & hand sanitizer. See website for menu.
Wine Dive - Wine and champagne infused cocktails, plus bloody marys, mimosas and sangria, ranging from $8 for single serving cocktails, and packages that serve up to four people ranging from $16 to 35. Delivery will be available on QuickSip. Cocktails will be offered 3-8pm, Wednesday to Sunday.

Are we missing something? Fill out this form to submit new locations.
Photo by Drink Philly
Recent Articles

Feedback
How are we doing? Tell us what you like or don't like and how we can improve. We would love to hear your thoughts!