Good Bands & Cheap Lagers: Thursdays at Millcreek Tavern
Cheap Date Philadelphia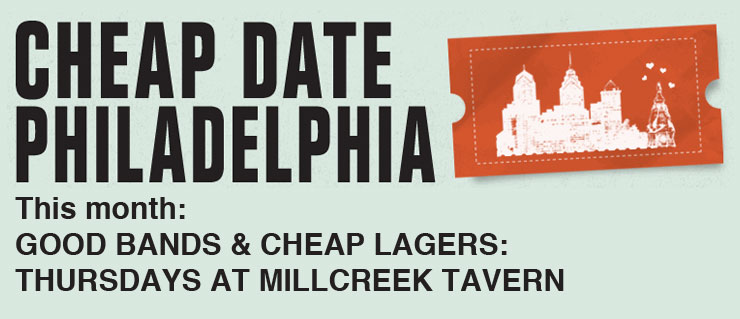 The Millcreek Tavern, located at the corner of 42nd and Chester streets in West Philadelphia, is a spacious bar and live music/DJ venue that defies easy categorization. It's too clean and too big to be a dive bar (although they do have dirt cheap drinks and darts, too); and it's not a sports bar either (although the flat screen televisions above the bar will be tuned in to the games); nor does it feel like a typical college bar (although Penn and Drexel students do frequent it, so do plenty of locals). It's just "the Millcreek" and its comfortable and laid back atmosphere makes it as good a spot to go pound beers with your buddies as it is to take a date.

One of the coolest features of the Millcreek is that they have their own house lager on tap (the "Millcreek lager"), and it's actually quite tasty. Its got a nutty flavor with a hint of spice, and, as my date pointed out, the perfect amount of carbonation (crisp, but not too bubbly). Exactly where it comes from remains the stuff of speculation, but at $2.50 a pint during their daily late night happy hours 9-11pm, it may well be one of the best draft deals in the city. Every Thursday the Millcreek also has bands play, with no cover, making this neighborhood bar one of the most underappreciated spots in the city to see a free show and have a good beer. At least that's the conclusion I came to after a recent Thursday date there.

The Thursday we went featured local singer-songwriter Chris Rossello followed by a mesmerizing, harmonic six-piece from Denmark (of all places), called Alcoholic Faith Mission. The bands generally get started around 9pm, and we arrived in the middle of Rossello's set, but his gravelly voice, sing-along melodies, and thoughtful lyrics captivated my attention until the end. Next, the Alcoholic Faith Mission assembled onstage with guitar, bass, accordion, trumpet, two xylophones, and a drummer who only had one drum (a floor tom) that he covered with a white blanket and hit with soft mallets. Almost everybody sang, and the effect was both soothing and haunting. I could easily see where the comparisons to Broken Social Scene, Sigur Ros, and Iron and Wine came from.

Because there were relatively few people at the show (I mentioned the place is unappreciated), the band invited us to pull our chairs in close to the stage, turning the performance into an intimate experience more reminiscent of a coffee house than a bar. And that's another great thing about the Millcreek: the layout of the bar is such that while you are in the back watching a band, you can easily ignore the goings-on at the bar, and vice-versa. An in-house professional monitors the stage sound, and the bands are never so loud that you can't carry on a conversation at the bar. At least, that's what we figured out when we retired from the stage area to give our ears a break and order up another round of Millcreek lagers.
How cheap we talkin': Thursday shows are FREE! Drinks are $2.50 9-11pm. In addition to the Millcreek Lager, daily drink specials include $2.50 domestic bottles and pints, $2.50 well drinks, and $7 domestic pitchers.

Why this will impress your date: Some seriously good bands are being booked at the Millcreek on Thursdays. Show (or fake) your indie cred by introducing your date to an undiscovered local gem, or touring act.

The Inside Game: The other night to try the Millcreek is Monday, for their $13 all-you-can-eat wing and beer special from 8-10pm. Great for a group date or guys night out!

Score Extra Points: By exploring the bar to find a spot to get cozy for a spell. The "side bar" next door never charges a cover, and has a dart board and a Ms. Pac Man machine, and their upstairs bar (sometimes reserved for special events) has a pool table, as well as plenty of tables for two.

Next date: Thursday! Check the schedule to see who's playing.
11.24.10
---
Cheap Dater is the author of cheapdatephiladelphia.com, a website dedicated to finding fun dates in Philly for less than $15 per person, including food and/or drink!
---
Recent Articles

Feedback
How are we doing? Tell us what you like or don't like and how we can improve. We would love to hear your thoughts!