The Royal Tavern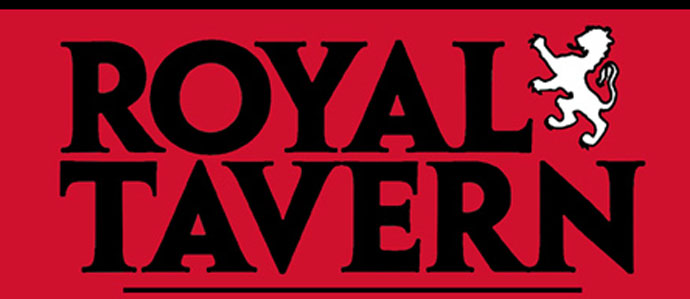 I moved in to my current apartment about a year and a half ago. I had certain criteria that had to be met in order for me to make the move to a new place; it had to have central air and a washer/dryer that I didn't have to pay for or share with anyone else. More importantly, it had to be near a good bar that I would feel as comfortable at by myself as with friends. So I was excited when I found a great apartment that is a stone's throw from The Royal Tavern.
It would be easy to miss the Royal (as fans call it). Sitting on East Passyunk, just north of Carpenter Street, it's announced only by a single sign hanging above the door. Inside, it looks kind of dive-y. A tin ceiling, dark wood bar, red walls, and dim lights keep it dark - very dark; there have been far too many times I've walked out after a couple of hours and have been surprised to find the sun still shining. There are Christmas lights hung year-round. None of that much matters, though, as it's got a great laid-back ambience that invites you to stay for as long as you please, even on nights when there's a waiting list for a table. Play a few songs from their great jukebox and the time will pass by quick enough.
The Royal Tavern has been credited with helping to initiate the gastro-pub renaissance in Philadelphia. One visit and you'll know why. The food goes beyond good. Served with bacon, smoked gouda, long hots, sautéed onions, and chili mayo the burger is one of the best in the city. The vegetarian options are fantastic, too. The sweet potato banh mi rivals anything you'll find at an authentic Vietnamese restaurant. The truffled popcorn or tater tots make the perfect snack food. And you'll never go wrong with any one of their several daily drink specials.
The beer list offers something for everyone, too. They have a rotating tap list on which can be found some truly great brews (recent favorites included the Southern Tier Pumpking and Bavarian Barbarian 2x4 IPA). Add to that a fairly extensive bottle list and you've got yourself a winner.
Best of all, they offer happy hour prices Monday – Friday 4 pm – 6 pm; come in during that time for ½ priced drafts and $3 well drinks.
The kitchen is open until 1 am nightly. Brunch is served Saturday and Sunday 10 am – 3 pm. Be sure to try the Bloody Mary. I think it's the best I've ever had. Spicy, garnished with pickles (sound gross, tastes delish!) it's the perfect brunch accompaniment.
No matter what your reason for stopping in – the beer, the food, the happy hour, the Bloodys – you won't be disappointed!
---
About the Author:
Helene is a craft beer enthusiast who aims to educate women (and men) about the wonderful world of craft beer. In addition to reviewing beers and bars on Drink Philly, she writes beer-related musings on her blog, Philly Beer Girl. You can also follow Helene on Twitter, where she tweets way too often - and at odd times - about what she's drinking.
---
Recent Articles

Feedback
How are we doing? Tell us what you like or don't like and how we can improve. We would love to hear your thoughts!