Free Tour of the Yards Brewery + Beer Tasting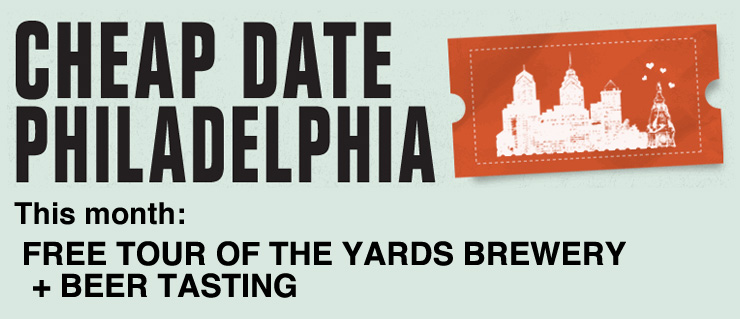 Philadelphia has earned itself a reputation as one of the top beer towns in the U.S., in no small part due to a passionate and dedicated community of craft brewers, the Yards Brewing Company being among them. Run by four full-time brewers and less than a dozen additional staff members, the Yards Brewing Company is a small business with big ambition. It's also just a fun place to hang out.
On a recent Saturday, my date and I took a free tour of the company's brewery and tasting room, located at 901 N. Delaware Avenue (north of Dave & Buster's and south of Sugar House). The tour lasted about 30-40 minutes during which we were told some truly interesting facts about the history of the company and its commitment to environmental sustainability (it's the first 100% wind-powered brewery in Pennsylvania, for example). We also learned about how their beers are brewed, bottled, and packaged, after which we happily returned to the tasting room to sample some beers of our own.
How cheap we talkin': The tour is FREE! Tasting flights are $5, paired with fudge (recommended) $8.
We arrived at the brewery a little before 3pm on a Saturday, and were greeted at the door by a man who looked exactly like who you would expect to be greeting you at a brewery. Burly and friendly, he invited us inside and told us when the next tour would be taking place. We had enough time before to check out the tasting room, which is furnished with a hodgepodge of reclaimed fixtures and equipment: the lacquered bar is made from repurposed bowling alley lanes, and old wooden church pews make up some of the seating. We didn't get to see the famed century-old pool table (it was covered with a holiday display of presents), but a steady stream of people were utilizing the shuffle board.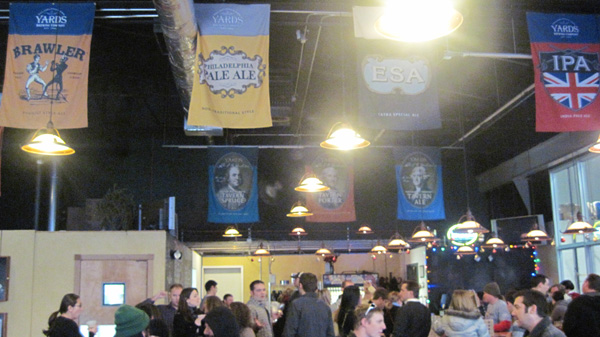 From our spot at the bar we could see straight through into the brewing room. In general, there isn't much activity in a brewery that is visible to the naked eye, but we were fortunate to witness a whole mess of stuff fizzing out of a brewing tank (because of the CO2) and spilling onto the floor. Cool!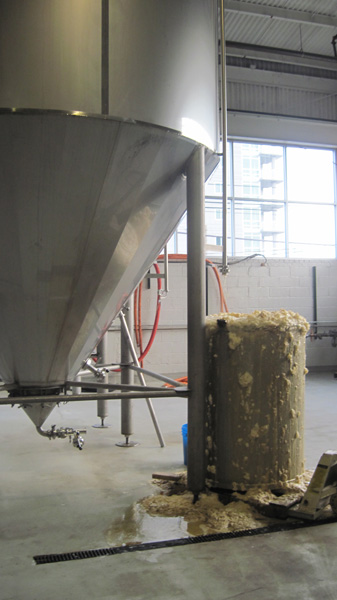 We listened as our tour guide told us about the company's humble beginnings (the co-founders were college buddies who figured out they could save money by brewing their own beer). They started the Yards Brewing Company in the early 90s, when craft brewing was starting to catch on more widely. Their first brewery was a modest operation in Manayunk, and they have since occupied and outgrown spaces in Roxborough and Kensington. Their current location at 901 N. Delaware Avenue is a large warehouse space that functions as part pub, part clubhouse, and part factory.
I most enjoyed hearing about the innovative ways Yards operates to conserve both energy and money. For example, they use cold water to cool down hot beer, a process that then heats up the cold water, which they collect and reuse. Also, unlike other brewing tours I've been on, Yards lets you get a look at the packaging and bottling operations (remember Laverne and Shirley anyone?).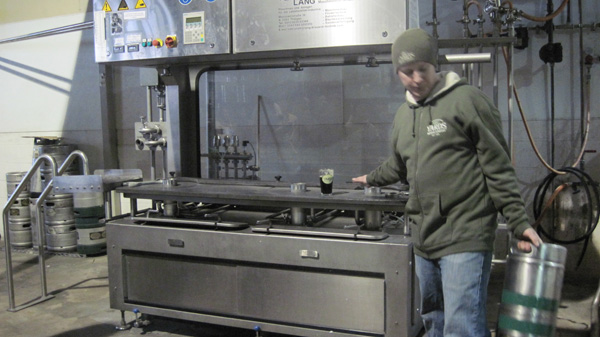 Of course, the highlight of the experience was the post-tour tasting. They have all their signature ales on tap (including their award-wining Pale Ale), and also offer two different flights of four beers for $5. They also offer something I'd never seen before: your choice of flight served with specialty fudge ($8). We split one and it was plenty for two. My favorite was the crème brule with Love Stout. My date was partial to the Thai chocolate with coconut and lime paired with Extra Special Ale. Flights are great because they really highlight the distinctions between brews, from taste to smell to color. As we leisurely sipped and nibbled my date noticed that their holiday decorations included a Christmas tree anchored in a sawed-off keg. To me, that playful and conscious re-use of materials really embodied the spirit of the place. It also made for lovely lighting long after the sun went down.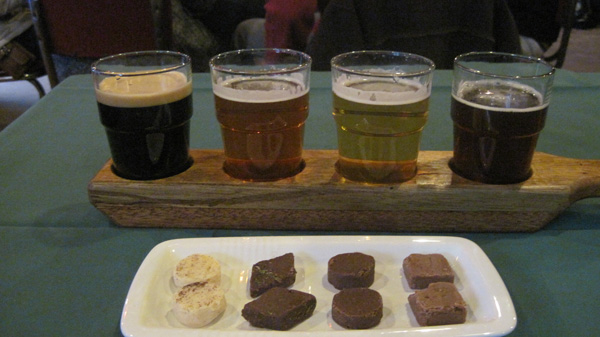 Why this will impress your date: Show off your green side. In 2010, the Yards Brewery won the Green Business Award from the Greater Philadelphia Chamber of Commerce.
The Inside Game: The tasting room has some climate control, but the brewing area does not. If it's cold outside, bring your coat and gloves inside. Also, open-toed shoes and high-heels are not permitted.
Score Extra Points: By dropping this knowledge: the packaging warehouse used to be a skate park. Check out the painted mural behind the bottling machinery.
Next date: Free tours are offered Saturdays at noon, 1, 2, and 3pm. The tasting room is open noon-7pm Monday – Saturday, and Sunday noon-4pm.
01.03.11
---
Cheap Dater is the author of cheapdatephiladelphia.com, a website dedicated to finding fun dates in Philly for less than $15 per person, including food and/or drink!
---
Recent Articles

Feedback
How are we doing? Tell us what you like or don't like and how we can improve. We would love to hear your thoughts!