Beer Welcome to Wegman's
About time...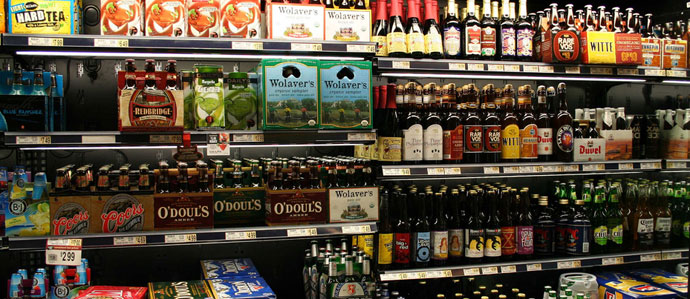 On December 3rd after a three year battle, chain grocery store Wegmans, won a Pennsylvania supreme court decision against the Malt Beverage Distributors Association, to sell alcohol on premises in their fourteen Pennsylvania locations.
We all know how stringent PA's archaic liquor laws can be, but is this a victory in the beer drinkers favor? Rewind one year to the supreme court decision allowing them to do so. Why, if illegal to do so in grocery stores, is Wegmans allowed to sell beer?
The answer is simple, and comes in the form of a loophole PA corporations are 'exploiting'. They are technically not allowed to, but what they , and other PA stores such as Giant and Sheetz, can do is acquire a liquor license for an on property restaurant and sell it there.
For them to legally sell beer in these eateries, they must satisfy certain criteria. To obtain a liquor license they must have a separate entrance/exit from the larger conjoining store, have seating for thirty or more people, and have a kitchen big enough to require health code licensing. These loopholes are also the reason Philly's most coveted craft beer havens such as Old Philly Ale House and the Bottle Shop are also allowed to operate.
As such the stores are subject to the same laws as restaurants in their alcohol sales, and are only allowed to sell up to two six packs at a time. Wegmans now sells alcohol in all of their PA locations, and Giant is also currently selling in 17 of their stores.
These decisions however are not a victory for everybody in the beer business, and is the reason why the Malt Beverage Distributors Association, that represents more than 450 PA distributors, has taken up arms. The beer business in Pennsylvania employs more than 80,000 people and is worth billions for the state's economy.
Beer distributors, unlike PA State Stores, are privately owned and many are mom and pop shops. It is these people who stand to lose out against grocers, who if keep along this path have the power to dramatically change how beer is sold in Pennsylvania.
Though even Judge Max Baer, who presided over the case said that this could be foreshadowing future supermarkets taking to the idea, or even reform in PA's alcohol distribution, as it stands these stores are perfectly legal, and is a case for the state legislators.
For now however, Pennsylvania's odd laws segregating restaurants, distributors, and hard liquor sales will make sure that distributors stay in business. Restaurants are still only allowed to sell two six packs at a time (and mostly at inflated prices) and beer distributors aren't allowed to sell anything smaller than a case.
What do you think? Is this direction a victory or defeat for the Pennsylvania beer enthusiast? And what of the distributors?
01.07.11

---
Recent Articles

Feedback
How are we doing? Tell us what you like or don't like and how we can improve. We would love to hear your thoughts!