Top Ten Deals for Restaurant Week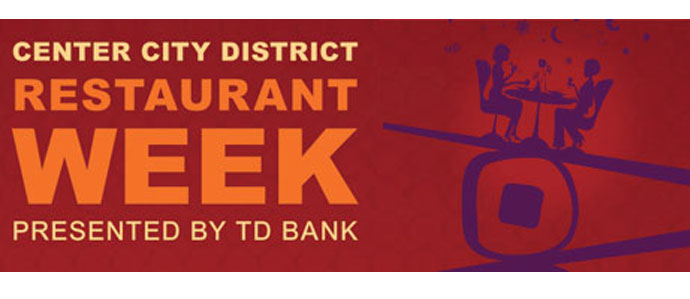 Restaurant Week in Philadelphia runs from January 16th through the 21st and then starts up again on the 23rd and finally ends on the 28th. Each participating restaurant offers a three-course dinner for $35 and some restaurants even offer three-course lunches for $20. Many restaurants are accepting reservations on Opentable.com. Over 100 restaurants in various neighborhoods around Center City are participating this year. The following are some places we recommend checking out.
Oyster House
Known for their amazing happy hours during the rest of the year, Restaurant Week is no exception when it comes to delicious deals at Oyster House. The seafood restaurant is offering a four-course dinner that includes offerings of soup, clams casino, crab cakes, lobster rolls, and a few desserts. As far as drinks are concerned, Oyster House offers 14 beers, over 20 wines, and a number of cocktails. Along with the Restaurant Week participation, the restaurant is also offering Oysters 101 classes for $30 per person on each Saturday of January from 1:30-2:30 PM.
Cooperage Wine & Whiskey Bar
If you're looking for something a bit more hearty, Cooperage's Restaurant Week menu consists of a variety of dishes from Mac N' Cheese, Bourbon BBQ wings, beef & bean chili, braised short rib. The mouthwatering dessert menu includes crème brulee, banana bread pudding, and some dangerous deep fried Oreos. The drink list is obviously wine and whiskey based but it also has some great beer choices including Allagash White and Rogue Mocha Porter.
Percy Street Barbecue
This Texas-styled barbeque joint has amazing macaroni & cheese to go along with brisket, baby back ribs, pulled pork, sausage, chicken, and pork belly (served by the half pound/rack/bird). Classic Southern sides include collard greens, coleslaw, and glazed carrots. Nearly thirty variations of whiskey complement the amazing barbeque perfectly.
The Plough & the Stars
The Old City restaurant is serving six different options for first course and seven for the second course. Beer lovers can even get their fix with their food dish by ordering the Guinness Casserole consisting of prime beef braised with Guinness along with carrots and onions served with mashed potatoes. Like any good Irish bar/restaurant, The Plough has a fantastic beer selection including over ten drafts.
Sampan
Michael Schulson's restaurant offers a wide variety of Asian dishes in late January. A number of dumplings, spring rolls, and ceviches make up the first course while anything from Korean barbeque to calamari to scallops make up the second. The third course takes the prize, however, as customers get their choice of short rib, crispy pork, pad Thai, Peking duck and three other options. Drinks options include some delicious Sake-cocktails.
Rum Bar
This Caribbean-style restaurant offers a different atmosphere and selection than many of the other participating restaurants. The first course highlight is a pumpkin curry soup while dishes such as Cuban style calamari, Cubano egg rolls, Jerk chicken wings, and curried goat stew help make up the next two courses. The desserts are simple but sure to please nearly everyone. Obviously, alcohol-wise the place is known for rum and it boasts over 190 of them.
Supper
Widely considered one of Philadelphia's best restaurants, Supper's Restaurant Week menu makes up for its limited amount of choices by offering amazingly high quality dishes. Highlights include slow roasted chicken with rapini gratinate, lemon, capers, and garlic and a butternut squash soup with cinnamon marshmallow, apples, and sage. The restaurant has a very good selection of local beers.
Tazia
This Chinatown restaurant offers one of the better happy hours in the city and their food menu is no slouch either. Some of the many highlights are the duck dumplings, crabmeat fried rice, petite filet mignon, and teriyaki salmon. It is also noteworthy that Tazia's Restaurant Week menu is a five-course dinner. The restaurant also has an extensive full bar.
Tir Na Nog
Irish fare and seafood dominate Tir Na Nog's food options. Shrimp cocktail, pan roasted salmon, potato gnocchi, and Guinness trifle are included in the delicious-sounding menu. The beer list is extensive and impressive and wine is also available.
Xochitl
One of the few Mexican joints that is participating in Restaurant Week, Xochitl has a fantastic selection of tequilla to help complement a menu that includes guacamole that is made at your table, numerous offerings of mole, camerones and Mexican-style salmon. A few Mexican beers are offered and the margaritas and other cocktails are inventive and tasty.
You can also see the complete list of participating restaurants here
01.14.10
---
Recent Articles

Feedback
How are we doing? Tell us what you like or don't like and how we can improve. We would love to hear your thoughts!