Cheap Date Idea: Fireside Beer Hang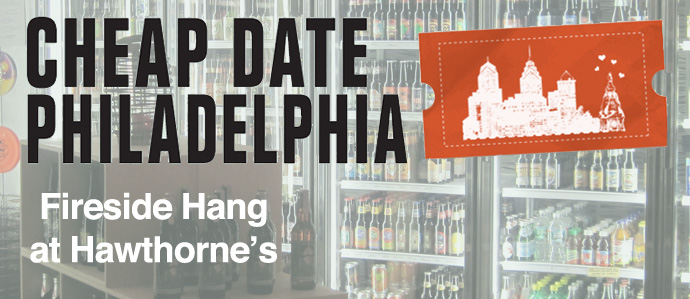 We've reached that time of the season: the excitement of the holidays is over, the novelty of the first snow has worn off, it's f*ing freezing outside, and it will be for the foreseeable future. Under these conditions -- best suited for sweatpants and close proximity to heating vents -- it can be very hard to get excited about getting dressed up and going out on a date. Unless that date involves curling up next to a fireplace with a perfect winter beer…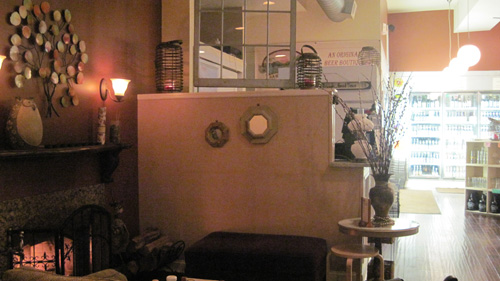 There are several places in Philly that boast fireplaces, but my date and I decided to meet at Hawthorne's, located at 738 S.11th street (at the corner of 11th and Fitzwater) in Bella Vista. Dubbed a "beer boutique" when it opened in 2009, Hawthorne's is a bottle shop, full-service restaurant, and bar/café all in one. It also feels like part living room, with a deep, cozy couch and an overstuffed ottoman flanking the small, but blazing, fireplace. The ambiance is comfortable, partly because there is nothing remarkable or edgy happening with the décor. On the other hand, that makes it both unpretentious and inviting, two very important qualities in a date spot.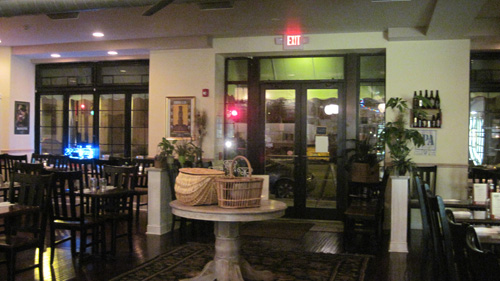 We arrived around 5:30pm on a weekday, made a beeline for the fireplace, and commandeered seats on the couch. It was big enough that another party could have joined us, but this night we had the space to ourselves. The waitress was extremely knowledgeable and friendly, and encouraged us to take our time. We spent awhile browsing the fridges in the bottle shop, which are stocked with an impressive roster of beers from all over the world, including my date's personal favorite, La Chouffe. They also carry a selection of gluten-free beers, and have a whole section dedicated to seasonal and limited brews.
In the end, we both ultimately opted for something from the limited (but well-mixed) draft list which included an IPA, a stout, a pilsner, plus something I had never heard of before (but which my date assured me was a real thing), the Shandy. After careful consideration, I had the Southern Tier Choklat, a silky stout with a satisfyingly strong smell of chocolate. In defiance of the weather, my date opted for the Shandy, which Hawthorne's makes with sly fox Pale Ale and house-made lemonade.
After our drinks arrived, there was nothing left to do but sit back, relax, and listen to the comforting sounds of the crackling fireplace, which the staff diligently tended throughout the evening. We nursed our beers as long as possible, putting off the moment when we would have to begin the season's most familiar ritual of layering up for outdoor exposure. But as soon as we did get up, another couple gratefully took over our spots on the couches -- obviously the best seats in the house.
How cheap we talkin': $5-7 for drafts, bottle prices vary.
Why this will impress your date: There are over 1,000 beers to choose from. That is an impressive selection by any measure.
The Inside Game: This place has more of the feel of a café than that of a bar. It's nicely lit, and not too loud, so bring a deck of cards or a board game if you want to stay for awhile.
Score Extra Points: By investing in an ever-so-cool Growler and taking the party to-go. Every third Tuesday of the month, Hawthorne's invites a brewer to come in for "Keep the Grolwer night." If you purchase one of their featured brews, you get to keep the Growler (a $15 value) for free! Check their calendar for future events.
Next date: Anytime. They keep the fire blazing until spring!
02.07.11
---
Cheap Dater is the author of cheapdatephiladelphia.com, a website dedicated to finding fun dates in Philly for less than $15 per person, including food and/or drink!
---
Recent Articles

Feedback
How are we doing? Tell us what you like or don't like and how we can improve. We would love to hear your thoughts!