1 Tequila, 2 Tequila, 3 Tequila...
Adventures at El Rey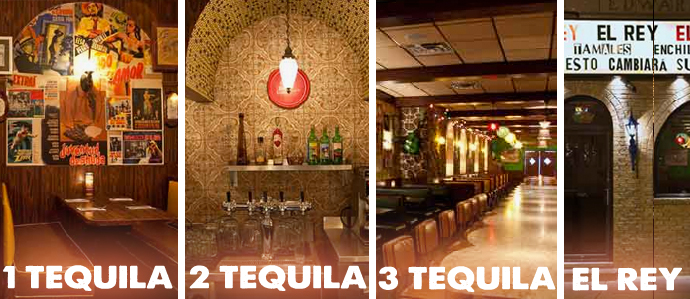 On 20th and Chestnut where the (creepy always filled with smoke and bikers) Midtown IV Diner used to sit about 7 months ago, a new (shady on the outside, awesome on the inside) Stephen Starr restaurant has taken over. El Rey, a cozy dimly lit bar which reminded me of a road side diner, made me feel surprisingly at home. My friend and I sauntered into El Ray promptly at 5 PM for happy hour and were greeted with open arms. The extremely friendly plaid-laden staff were quite accommodating, chatty, and quick to let us know about their "Uno Dos Tres Quatro" happy hour menu.
From 5 to 6:30PM, El Ray has $1 tacos (steak, chicken, fish, veggie, or cheese), $2 tecate, $3 corona, and $4 house margaritas. The tacos typically range from $7 to $9 so this was a steal. The tacos were tiny, but my tongue was more than satisfied. What they lacked in size they definitely made up for in flavor. I ordered a house margarita because they were only $4. I'm not going to lie – as a rule I usually don't drink tequila due to some traumatizing college experiences that I'd rather not go into detail about – but I figured for $4, the time to start drinking them again was now. As a result, El Rey's happy hour cured me of my tequila abstinence. The margarita was small, but I loved it. The tequila did not overpower it, but it was strong and had a great taste. My friend ordered a corona for her and it was served in a boot glass. This was perhaps my favorite thing about the happy hour. They were also offering a $1 mini pumpkin soup, which was maybe the best soup I ever tasted. The soup was more savory than sweet – an unexpected surprise! After 5 tacos my tummy was happy. Each taco had a different flavor so I suggest you try them all – my favorites being the steak and chicken.
The booth that we sat at was quite comfortable, and each booth/table had its own "spell candle". Ours was for love and it provided love spell directions. Others were for attraction, casting off evil, and luck. On the walls hung framed sketch art – some of which included love scenes, breasts, and 80's heroes such as Mighty Mouse and Popeye. A (non-functioning) record player and accordion sat on the bar. I would definitely come back here for happy hour or even just to hang out. Yum!
Recent Articles

Feedback
How are we doing? Tell us what you like or don't like and how we can improve. We would love to hear your thoughts!