My Milkshake Brings All the Boys to the Yard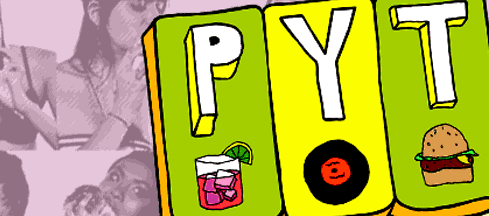 P.Y.T. Hm. Pretty Yummy Ten dollar adult shakes? Posh Young and Trendy? Pleasantly Youthful and Tasty? I could go on and on with my guess at what P.Y.T. stands for, but these letters seem to stand for nothing in particular. This air of mystery just adds to the hip vibe of this popular bar at the Piazza in Northern Liberties. Also adding to the mystery of this bar, was the fact that the waiters and waitresses blended right in with the customers. It put me at ease and made me feel quite relaxed ??" like I was sitting in a friend's house. The vibrant color scheme of greens, yellows, and oranges, was quite modern retro and made me feel like I was in a comic book. I felt like I was a kid again, but this time I wouldn't get in trouble for drinking alcohol.
There was also no music playing at all! This surprised me, but it was actually really nice and calming. My friends and I could enjoy the happy hour without having to scream across the table to each other. During happy hour at P.Y.T., 5 ??" 7 during the week, all draughts are half off, which makes most of them only $2! And even though there are no food specials during happy hour, the food prices are really affordable. I had a P.Y.T. burger (that came with chips and a pickle), which only cost me $8. I of course also had some onion rings and cheese fries. P.Y.T. gets major points for both of these. The onion didn't fall out of the ring when I bit into it! And seriously, that is one of my biggest pet peeves. The onion rings were good, but if I had to recommend a side order to get, it would definitely be the cheese fries. The fries were a golden brown doused in black pepper with just the right amount of cheese (wiz of course). Ditch the chips and get these with your burger instead for only $2.
But my favorite part of P.Y.T. were the milkshakes. Rephrase: their "Alcoholic Adult Milkshakes". I love milkshakes, and clearly I love alcohol, so of course I had to order something that put the two together. I was so excited that I was acting like a child in a candy store. My only hesitation was that they were $10 each, but it was well worth it. I ordered the Peanutbutterchocolatebanana, and after a few sips I was both in heaven and a tad bit tipsy. Here's why: it was made with chocolate ice cream, peanut rum, banana rum, peanut butter, and bananas. And it was topped off with rainbow sprinkles, whipped cream, and a cherry. The happy hour is what brought me into P.,Y.T., but the milkshakes are what will keep me coming back. Strong, sweet, and satisfying.
If you feel like being fat and skip the gym to go to a happy hour at P.Y.T. like I did, you may as well live it up and get a burger, a shake, cheese fries, some onion rings… and a beer.
It's a wonder I don't weigh 500 pounds. Enjoy!
Recent Articles

Feedback
How are we doing? Tell us what you like or don't like and how we can improve. We would love to hear your thoughts!