A Hint of Hope in Neon Green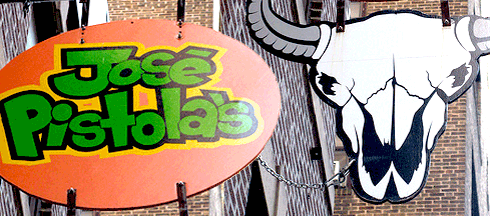 So I was really craving a margarita, and I knew Pico de Gallo makes very good (read: one sip and you're on the floor) margaritas. I approached Pico de Gallo's door that read "open," and was surprised to find it locked. Pico was closed. Crap. I remembered passing another place on 15th Street between Locust and Spruce on my way there. It stood out because there was a large horned skull that hung outside that read "Jose Pistola's" in neon green.
This ended up being a blessing. As I walked into the bar, I was greeted by a jukebox, a bar, a bunch of tables, and a staircase. I made my way up the stairs and was welcomed by another bar and more tables! It had a very homey and relaxed feel; the walls were all brick and the bar was decorated with Christmas lights. I was excited by the festive and fun nature of it all. I made myself comfortable at a table lit only by candlelight.
Luckily for me, during happy hour (5-7 every day) margarita pitchers are only $15! I ordered one to satisfy my craving (don't worry - I had company), and some authentic Mexican appetizers off the menu. We ordered some chips & guacamole and some wingos grande. When you go to Jose Pistola's, get both of these. The guacamole and salsa were awesome and fresh, and the chips weren't too soft or too crunchy. The wings were made with a sweet and spicy pepper sauce; they were smoky with a hint of spice (but not too spicy). As the guacamole and salsa dwindled down, everyone at the table battled it out for those last few bites. Yum.
Now back to the margaritas. One pitcher gave us at least 8 full margaritas! They were quite tasty and a few glasses definitely did the trick, but they seemed a bit light on the alcohol. Beer specials included $2 Miller Lite and Yuengling. Jose Pistola's also has a pretty decent selection of international beers, so if you like your beer, check this place out. I ordered the Schneider Aventinus, which with my luck, they were out of. However, our waitress was extremely knowledgeable about the beer selection and the whole staff was friendly. They let us sample any beer that we wanted to assure us that we would like what we ordered (and I sampled a lot). Hooray! Thanks, Jose Pistola's, you've convinced me to come back!
Recent Articles

Feedback
How are we doing? Tell us what you like or don't like and how we can improve. We would love to hear your thoughts!