Philadelphia Makes It to the Top (of a list of the most toxic cities).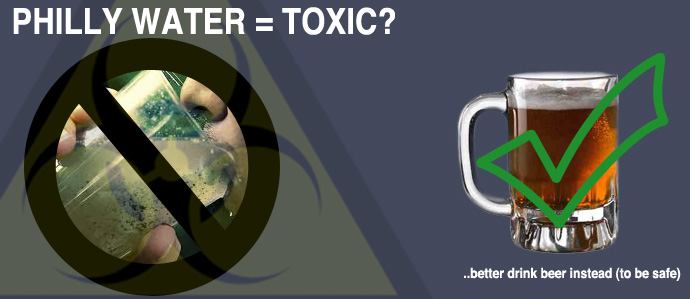 A recent article released by Forbes has named Philadelphia the "Most Toxic City in America" based on a number of different factors. Don't worry though. According to the magazine says there is no need to "pack up and move". Phew.
One of the main reasons the City of Brotherly Love cemented the top spot was due to the fact that the metropolitan area has more than 50 "Superfund" sites, which are areas that are no longer in use and that contain hazardous waste. A website called Sperling's Best Places clearly doesn't consider Philadelphia to be the best place when it comes to water quality either, as it ranked the city dead last in that category. That's okay because the article has nothing to say about the quality of alcohol. Let's play it safe and stick to that form of beverage, shall we?
Just drink more beer, folks. It'll probably be considered healthier soon anyway.
Of course, the catch of this study is that it includes parts of four other states as part of Philadelphia's metropolitan area: Pennsylvania, New Jersey, Delaware, and for some odd reason, Maryland. Philly may not be the healthiest city, but the four Superfund sites in Cecil County, MD and the five in New Castle County, DE (both considered part of the aforementioned "metropolitan area") couldn't have helped the outcome. And hey, at least we aren't considered one of the country's most miserable cities. Science can solve toxicity problems, but has no answers when it comes to misery.
Recent Articles

Feedback
How are we doing? Tell us what you like or don't like and how we can improve. We would love to hear your thoughts!