Barrel-Aged Cocktails at Pub & Kitchen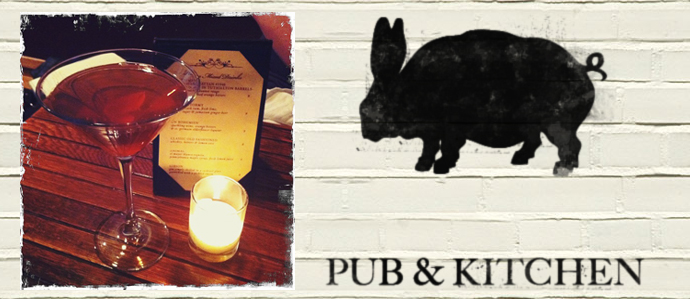 It can be easy to walk past Pub & Kitchen's unassuming entrance on the corner of Lombard and 20th. The only indication that I was in the right place was the beautiful window display: arching yellow flowers in little glass beakers as part of the "Phlower Power" contest for the Philadelphia Flower Show.
I was there to sample Pub & Kitchen's latest barrel aged cocktail, alluringly coined "The Dahlia". The fourth cocktail of its kind for Pub & Kitchen, the Dahlia is an herbaceous drink with an Espolón Blanco tequila base. Fernet Branca lends the herbal flavor, and a dash of Bittermens Xocolatl Mole bitters adds richness. Just a drop of Agave Nectar simple syrup for sweetness, and a twist of grapefruit finish it off.
The waitress warned that "it's not everyone's cup of tea," and I have to agree. It's not for everyone, but it does have a complex and interesting taste profile. The medicinal taste from the herbs and the tequila are mellowed by the oak barrels, and the agave and bitters mix sweet notes with savory. Keeping with Prohibition-style cocktails, it's not cut with anything - it's pure booze, just like our forefathers drank it.
Sean Mallory, the bar manager and inventor of The Dahlia, took some time to explain the idea behind it. Inspired by Jeffrey Morgenthaler, a bar manager who had been aging his Manhattans in oak casks, Mallory acquired some gently used whiskey barrels and got to work. After much research and experimentation, the Manhattan became Pub & Kitchen's first barrel aged cocktail, composed of Jim Beam Rye, Dubonnet Rouge, and housemade orange bitters. It remains a mainstay on their current cocktail menu.
For winter, Mallory searched for a way to incorporate tequila without using fruit, leaning towards spice instead. "I look for ways to keep things interesting, to redefine the bar," he explained, "I like to take something ordinary and present it in a new way that makes it exciting."
Look for another innovative barrel aged cocktail, possibly with rum, on the horizon from Pub & Kitchen!
Recent Articles

Feedback
How are we doing? Tell us what you like or don't like and how we can improve. We would love to hear your thoughts!