Philadelphia Bars with Outdoor Seating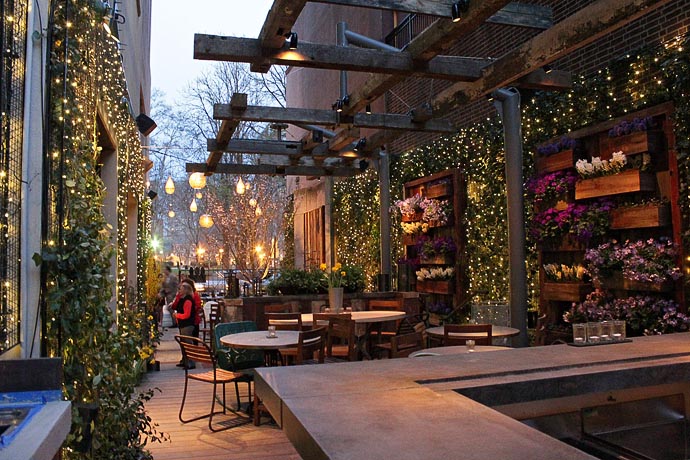 Talula's Garden offers some of the prettiest patio seats around; Photo by Danya Henninger

When the weather is warm, there's nothing better than sipping a brew, cocktail or glass of wine outside – it just makes the world seem right. Here's a guide to spots around town where you can accomplish just that!
Click on the name to see location, drink specials and more

Art Museum/Fairmount
Belgian Café: The mussels and frites here are a perfect accompaniment to the hundreds-long bottle list
Bishop's Collar: A recent renovation added class to this neighborhood standard with a dozen interesting beers on tap
Flying Carpet Cafe & Bar: Enjoy a quaint environment and Middle Eastern tapas with your drinks
Jack's Firehouse: A lovely garden patio sits beside this converted firehouse
Kite & Key: Sit on the patio and select from 16 drafts at this Callowhill New American

La Calaca Feliz: Fantastic margaritas are best sipped in the garden patio out back, just past a trip through the colorful murals and fancifully decored dining room

McCrossen's Tavern: Enjoy the elevated eats and drink at sidewalk tables under the awnings
St. Stephen's Green: Take the luck of the Irish outside at this relaxed tavern
Midtown Village/Wash West

Barbuzzo: In warm weather, outdoor seats nearly double the room at this popular Medi-spot from Marcie Turney & Valerie Safran
Caribou Cafe: French flar is apparent at the classily fenced off outdoor seating area on Walnut
The Corner: The roofdeck here is the perfect perch for people watching in buzzing Midtown Village
El Vez: The zany atmosphere of this Stephen Starr Mexican follows you outside, thanks to colorfully tiled columns
Finn McCool's Ale House: 12th & Sansom might not be the most picturesque corner, but hey, it's outdoors!

Garces Trading Company: Sit on large, slatted-wood chairs outside the Iron Chef's combo dining room/market (Bonus: there's a Wine & Spirits shop inside!)
Irish Pub 12th St: Classic Irish pub fare awaits at plenty of outdoor seats on Walnut

MilkBoy: Garage doors roll completely up, making the entire first floor an open air dining room
Mixto: Latin flavors from all over the world come together on Pine Street

Moriarty's: Over 30 craft drafts flow at this Irish pub with seriously solid wings, and dogs are more than welcome

Opa: The Drury Beer Garden is hidden behind this Greek taverna
Raw Lounge: Escape the busy street with some sake in the hidden garden behind this sushi lounge
Sampan: A profusion of color greets you at the Graffiti Bar out back, even if you haven't yet slurped down a Scorpion Bowl
Smokin' Betty's: Barbecue is meant to be enjoyed outdoors, with plenty of liquid refreshment
Talula's Garden: Blooming trellises, a faucet fountain and a slate bar greet patrons alongside Washington Square Park
Tria: Beneath awnings, hightop tables surround this petite wine bar
Valanni: Lucky drinkers can score the few seats beside this Wash West tapas joint
Varga Bar: There's plenty of room here once this gastropub lines up the plentiful outdoor tables that wrap around the corner
Vintage Wine Bar: The place for an outside glass of vino on Thirteenth Street
Zavino: Pair your sips with crispy Neapolitan pizza on the Midtown Village corner



Rittenhouse

a.kitchen: When the floor-to-ceiling doors are flung open wide, the relaxed but elegant atmosphere flows out to the sidewalk seats at this wine and cocktail spot

Continental Midtown: Take the private elevator to the third floor for a swanky roofdeck in the middle of everything

Devil's Alley: The sidewalk seating at this Rittenhouse tavern is perpetually packed

Devon Seafood Grill: You can almost feel an ocean breeze at the seating along 18th Street at this prime parkside seafooder

Parc: Over 80 wicker seats curve round the corner at this French bistro from Stephen Starr

Pub & Kitchen: Pub food and drink get a lift, just like your spirits will sitting alongside 20th Street here (note: closed April 1-15 for renovations)

Rittenhouse Tavern: A secluded garden patio hideaway exists right off the Square, behind the Art Alliance building

Rouge: It's see and be seen at this ritzy fave with a slew of seats alongside the flowering square

Serafina: NYC's fancy pizza parlor provides several outdoor seats from which to glimpse the neighborhood glitterati

Square 1682: Shaded tables line Sansom Street outside the Hotel Palomar

Tria: Slide into one of the few seats outside this wine-beer-cheese cafe to take in the sounds and sights of the bustling neighborhood

Twenty Manning Grille: Comfortable banquettes and other tables accommodate drinkers at this fun American tavern from Audrey Taichman

Vango Lounge & Skybar: Head to 18th Street to hit this late night roofdeck that's meant for partying


Ben Franklin Parkway/Logan Square

Con Murphy's: Enjoy views of Love Park outside this pub on the Ben Franklin Parkway

Mexican Post (Love Park): Margartitas are the name of the game at the elevated patio just off the Parkway

Swann Lounge: The Four Seasons has a fantastic courtyard tucked behind its entranceway on 18th Street

Table 31: Beneath a constructed awning, rows of fancily dressed tables line up beside a sparkling fountain in front of the Comcast Center


South Street
Bridget Foy's: A long, raised patio seats drinkers along Headhouse Square
Chick's Social: The former Chick's Cafe & Wine Bar has a new name and expanded food menu, but the same great cocktails
Jon's Bar and Grille: Enjoy a sip and a bite on a bi-level, gated patio beneath the watchful eye of Three Stooges' Larry
Percy Street Barbecue: Smoked meats make for thirsty palates, easily sated with a selection of 80+ canned brews and plenty of whiskey
Supper: Sit at the couple of tables beside the copper door while enjoying farm-sourced, creative snacks
Twisted Tail: Though the gamerooms upstairs are tempting, sip your bourbon on the bricks outside when it's warm


Graduate Hospital/South Street West

Rex 1516: A small series of sidewalk tables provide a spot to down juleps and Southern-inspired snacks

Sidecar Bar: Great beer, great brunch, great bar food — what more could you ask for while sitting on the sidewalk?

SoWe: Feel like part of the neighborhood at seats alongside this friendly hang
Fishtown/Northern Liberties

Abbaye: Belgian brews are best enjoyed outside this hipster hang
Bar Ferdinand: Sip Spanish specialty drinks outside this well-stocked resto/bar on Liberties Walk
Cantina Dos Segundos: Picnic tables are a perfect foil for Mexican treats and margaritas

East Girard Gastropub: Spread out on picnic tables at this corner "EGG" gastropub
El Camino Real: Margarita madness is much better when accompanied by munchies outside
Frankford Hall: Play ping-pong or Jenga beneath Linden trees as you quaff German brews in the gravel-covered beer garden
Kings Oak: A special section of The Piazza is roped off for seating outside this gastropub

Interstate Drafthouse: Bring your dog along as you catch a craft brew on the backyard patio
Johnny Brendas: While the dark interior is perfect for intimate music shows, craft brews are best enjoyed out front

North 3rd: The outdoor seats along this corner pub provide a bright contrast to the dim interior
PYT: Stretch out on lawn chairs out front after the crazy burgers and even crazier adult milkshakes make you sleepy
Silk City: Find a garden atmosphere outside this combo bar and diner
Standard Tap: Enjoy the all-local, all-draft beer selection on the expanded second-floor deck
Old City
Continental Old City: Classic martinis taste even better when you're sitting sidewalk-side
Cuba Libre: Stay safely ensconced on the wooden deck with your caipirinhas as you watch Old City's crowds go by
Mac's Tavern: Paddy's Pub may not have outdoor seating, but you will find it on Market Street at this bar from the Always Sunny gang

Morgan's Pier: The ultimate waterfront beer garden, choose from wooden booths, two bars, Linden-tree-shaded picnic table and more
Plough & the Stars: Take the Irish fun outside on Chestnut Street

Positano Coast: Feel like you're on the Riviera on the spacious patio overlooking Society Hill
Revolution House: Grab a drink on the second-floor patio to enjoy flower-filled views of the river and historic buildings

Barra: Nosh on coal oven pizza paired with creative cocktails at shiny metal tables along Chestnut Street
Rotten Ralph's: Grub and drinks are available on the sidewalk at this Old City bar
Triumph Brewing Old City: The brewpub's offerings taste even better out on Chestnut Street


Queen Village/Bella Vista
Bainbridge Street Barrel House: A cavalcade of tables line the corner spot, and wide open windows bring the air into the dining room
Beau Monde: Brunch on crepes and Bloody Marys at the wraparound wood deck, or head back for dinner to pair your French pancakes with great wines

Bistrot la Minette: Sit out on the elevated patio to enjoy French wines and cuisine while people-watching to your heart's content

Catahoula: Tucked into a nook off of Front Street is a narrow outdoor patio that brims with buzzing fans of Cajun food and drink

Devil's Den: Outdoors seats line 11th Street at this South Philly beer bar

Hawthornes: Snag one of nearly 1,000 bottles and cans or sip a rare craft draft from the rotating list at a half-dozen tables in front of this beer shop/deli

The Mildred: Patio chairs and tables sit beside the blooming brick planters (BYO outside with $15 corkage until liquor license expansion comes through)

New Wave Cafe: A great selection of rotating craft brews provide enough reason to snag on of a smattering of outdoor seats



East Passyunk

Adobe Cafe: Southwestern style fun and inexpensive drinks are all the better outdoors

Birra: Creative pizza (mac 'n' cheese? Please!) goes great with craft beer, and the Italian-centric selection here tastes best sipped at the chairs alongside the open windows
Cantina Los Caballitos: Margarita-sipping hipsters create a serious traffic stopper at tables along East Passyunk
Devil's Den: The incredible selection of craft brews here are best enjoyed under the sun
Pub on Passyunk East: Enjoy solid eats and great sips as you watch the crowds flow by Pat's and Geno's up the block

Stateside: Seating wraps around the corner at this hot East Passyunk New American, where all spirits come from within the U.S. (yes, that means they make their own vermouth).


Pennsport

The Industry: This ode to folks in the restaurant and bar biz has a killer draft, bottle and cocktail list, which you can enjoy at 36 seats wrapping around the corner property.
West Philly
City Tap House: Even when it's nice out, the firepits on the roofdeck warm the soul as well as the 60 beers on tap
Dock Street Brewing Company: Great pizza tastes even better outside at this brewpub
Drinker's West: Eat, drink and be merry outside this all around pub
Tria Wine Room: A beautiful wooden patio is a perfect showcase to the interesting wines, beer and cheese here


North/Northeast Philly
Grey Lodge Pub: The king of craft brew in Northeast Philly (home to Friday the Firkinteenth) now sets up a few tables outside their door

Hop Angel Brauhaus: A German-inspired pub wouldn't be the same without umbrella-shaded tables in a biergarten out back
Maggie's Waterfront Cafe: Enjoy views of the rivier at picnic tables that line a stone courtyard at this casual tavern
Paddy Whacks: The Northeast location always has the game on and offers outdoor seating as a bonus

Three Monkeys Cafe: Snag a seat on the tree bar patio or in the Key West-inspired courtyard retreat to enjoy throwback food & drink at this casual gastopub
North Broad
Alla Spina: The garage doors roll up on this Marc Vetri Italian gastro pub, and the outdoor seating flows right into the colorfully graffitied inside
Route 6: Picnic tables in the garden are the place to enjoy seafood and sips at this Stephen Starr joint
Eraserhood
Llama Tooth: Strung with holiday lights year-round, the patio at this under-the-radar Spring Garden spot is colorfully decorated with murals

The Trestle Inn: The revamped whiskey and go-go bar sets up sidewalk tables in the summertime


South Broad

Tashan: Enjoy elevated Indian fusion bites and creative cocktails at dozens of gleaming metal streets with a view down Broad of City Hall
Manayunk & East Falls

Bayou Bar & Grill: Fun and drinks await at Southern-themed tavern
Kildare's Irish Pub: The craft beer selection is growing at this more than standard Irish Pub
Manayunk Brewery: Sip suds beside the Schuylkill on the large outdoor decks at this brewpub
In Riva: Watch bicyclists, runners, scullers and more as you drink Italian favorites on the outdoor patio
Chestnut Hill, Germantown & Mt. Airy
Avenida: A stone-lined, 30-seat patio is the perfect place to sip margaritas
Chestnut 7: the large patio is the perfect spot to sip cocktails or a craft draft brew
Photo: Talula's Garden by Danya Henninger
Tags:
Outdoor Seating
Recent Articles

Feedback
How are we doing? Tell us what you like or don't like and how we can improve. We would love to hear your thoughts!