Escape To Europe Via Happy Hour with Beneluxx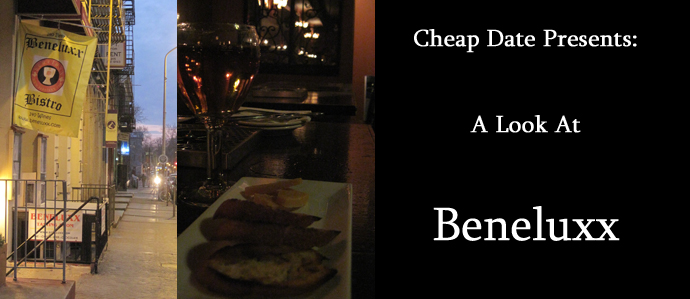 The concrete stairwell on 3rd Street that serves as the entrance to the Beneluxx Tasting Room doesn't look like much. In fact, if you didn't know what you were looking for, you would probably walk right past it thinking, there couldn't possibly be an intimate and romantic beer and wine bar with excellent happy hour specials and amazing fondue down there. But there is.

Owned by Michael Naessens (of Brugge; also of Eulogy), Beneluxx is an Old City bar/restaurant that boasts the largest selection of wine available by the glass in the city, as well as nearly 30 beers on tap at any given time, and 150 bottles (see menu). Much of the selection is from Belgium or Europe (much like Eulogy), but unlike the neighboring tavern, Beneluxx is equally committed to wine and cheese. During its weekday happy hours of 5-7pm, $5 gets you a choice of wine or beer served with a 1 oz. sample of to-die-for cheese. Even during non-happy hours, beer is available for make-your-own flights, and wine can be bought by the half-glass (70ML) for half-price. Their menu also boasts three kinds of cheese fondue, whose $8.99 single portions come with a heaping plate of croutons, and are easily enough for two.
Walking in from the street, the décor is simple, but striking. Light filters through the darkness from wall-mounted sconces, and a jewel-toned stained-glass window, lit from behind, continually draws the eye. Flanked on one side by small tables, and on the other by a tall bar, Beneluxx is perfect for either an intimate dinner or a casual drink.
The night we were there, arriving close to 6pm on a Wednesday, my date and I nearly had the place to ourselves. We sat at one of the tables, which are outfitted with fountains to rinse wine glasses between tastings. (Apparently, it's the only restaurant in the world that boasts this feature). Beneluxx takes its wine menu very seriously (as does my date), but the waitress answered all questions knowledgably, and with a smile. My date chose the Camelot Sauvignon Blanc on offer that evening, which was paired with a mild blue cheese. I had a Leffe Blonde, which the chef matched with an earthy, crumbly cheddar that I loved.
Our appetite for cheese sufficient whetted, we had a hard time choosing between the Traditional Swiss fondue or the Beer Cheese, but ultimately decided to spice it up and try the latter. We were not sorry. The mixture of Stella, sharp cheddar and dry mustard was a wonderful, hearty consistency – not at all runny or watery – and the spice was a nice counterbalance to the sharpness of the cheese. It was served with a mound of slightly hardened hunks of white bread, which we delighted in stabbing with the tiny prongs provided, before drenching in cheese. They kept the pot warm with a tea-light candle underneath, whose tiny flickering accentuated the darkness of the bar – it was like we were hovering over our own little campfire, but with bread instead of marshmallows on our sticks. It made for the perfect atmosphere for leaning in close, for telling stories, and for forgetting the rush-hour traffic outside.
We could have stopped after polishing off the fondue and been quite content with our meal, but neither of us could resist the allure of what the menu described as "orgasmic" chocolate fondue. The dish looks small, but it's incredibly rich, and despite our best efforts, we couldn't finish it. My favorite thing to dip were the cookie pieces. My date preferred the bananas.
With stomachs heavy from the evening's indulgences, we reluctantly climbed the short steps back up to the street, where just for a moment I could have sworn I heard the strains of something by Johannes Ockeghem. It might also have been the #57 bus….
How cheap we talkin': Happy hour drinks are $5, including cheese pairing. A small cheese or chocolate fondue to share is $8.99 (plus tax and tip!).
Why this will impress your date: Beneluxx's stained-glass glow makes you feel like you've been magically transported to Europe.
The Inside Game: The glass rinsers on the tables are a novelty, but they make half the surface of the table uneven, so it can be hard to sit with a group of more than two.
Score Extra Points: By letting your date have the last bite!
Next date: Any Monday-Friday, 5-7pm.
Related Articles:
Recent Articles

Feedback
How are we doing? Tell us what you like or don't like and how we can improve. We would love to hear your thoughts!