How to Make Basic Brunch Drinks Better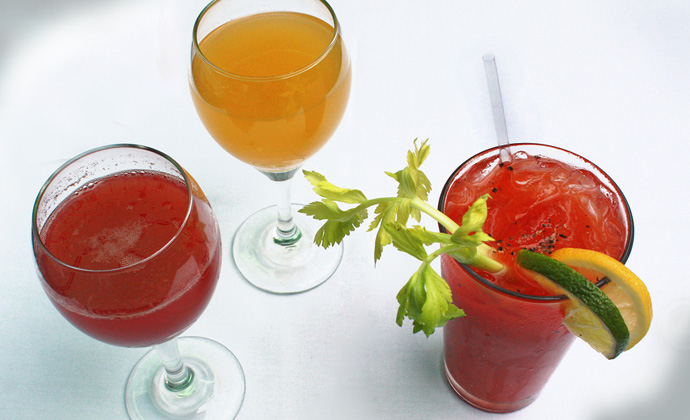 I firmly believe in the weekend brunch as a solid activity that's simple, universally enjoyed and plentiful here in our fair city. After you turn twenty one, brunch becomes even brunchier with the addition of a good wake-up (or go back to bed) cocktail.
We of course have the traditional mimosa and/or bloody Mary. Both of these are fine staples to any good brunch, but in case you were wondering what other options you might have, we have some suggestions. Keep in mind that some of these are Drink Philly exclusives (or at least, we've made them and can vouch for them) and therefore may not be available at your local bar.
But hey, that just means Sunday brunch is happening at your place this week. Email us your address. We're thirsty.
Mimosa Variations
The basic mimosa recipe calls for one part champagne and one part orange juice. Some suggestions for variety:
Try adding a splash of peach schnapps for a fruitier, sweeter blend.

Use orange-mango juice instead of regular orange juice. Several juice brands make a great one including the Trader Joe's brand and Simply Orange with Mango.

Try a sparkling wine like Prosecco instead of champagne with the tiniest splashes of lime. This will add a more tart bite to the beverage for those folks who'd prefer something less sweet.

Coffee Variations
Ditch the cream in your coffee and opt for Bailey's. Plus there's sugar built in, which saves you on the sweetener.

For at-home coffee drinks, sprinkle cinnamon in the coffee grounds before brewing. When the coffee's done brewing, add Godiva Chocolate Liqueur with a splash of milk. It's all kind of dessert deliciousness.

For both of these, I won't judge you if you add some whipped cream on top.
Other Options
For the adventurer:
4 oz. of cranberry juice and 1oz. pisco, a distinct South American spirit made from grapes, served over ice. This is a nice alternative to your standard "glass of juice" with breakfast. Light, tea-like, and relatively mild. This also works well as a summer night cap!
For the summer-lover: fresh lemonade and gin. I stress the homemade fresh lemonade mostly because of the sugar content. If brunch is the gateway to your day, most brands of lemonade are loaded with sugar and the addition of gin will more than likely make you sluggish instead of spritely. Make a batch of lemonade and add a couple splashes of gin. Need some extra antioxidants? Muddle some pomegranate seeds at the bottom of individual glasses.

Drink up and go back to bed!
Photo: Flickr user gottshar
Tags:
brunch
,
Cocktails
Recent Articles

Feedback
How are we doing? Tell us what you like or don't like and how we can improve. We would love to hear your thoughts!