The Bloody Mary Considered Chemically Complex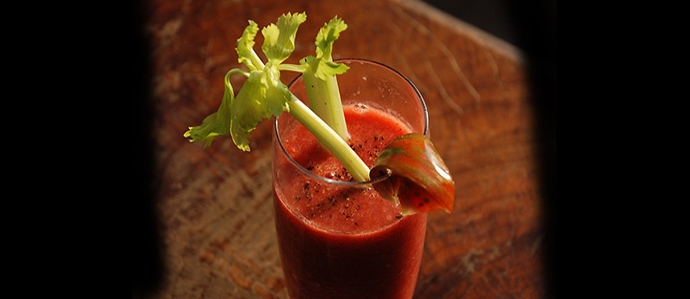 The Drink Nation loves Science, because it brings us great things like lobster cola and robots that build Christmas trees with other robots.
Sometimes, however, Science has to deliver some rough news. In this case, the American Chemical Society fairly recently analyzed the Bloody Mary and determined that it is one of the most complex cocktails in the world. The research was presented at a meeting of the American Chemical Society earlier this year.
The cocktail itself runs the gammut of taste senses, and covers sweet, salty, sour, and savory all at once. Beyond that, chemically-speaking it degrades rapidly due to the acids in the tomato juice.
Neil C. Da Costa, Ph.D., a expert on the chemical analysis of flavors at International Flavors & Fragrances, Inc., Union Beach, N.J. offered the following advice:
"Make it fresh. Chemically, the Bloody Mary is a "highly unstable" concoction, and the quality tends to deteriorate quickly.
Ice it up. Serving Bloody Marys on ice helps to slow down the chemical reactions involving acids in tomato juice and other ingredients that degrade the taste.
Mind your mixes. If you use a cocktail mix, add some fresh ingredients tol enhance the flavor and aroma.
Splurge on the juice. Tomato juice makes up most of the Bloody Mary's volume, so use high quality juice that has a deep, rich flavor.
Economize on the vodka. The intense, spicy flavor of a Bloody Mary masks the vodka, and using premium vodka makes little sense."
I'd go ahead and argue only with the last point. Some premium flavored vodkas go quite nicely in a bloody mary (like Bakon!). On the other hand, many bottom-shelf vodkas will have a terrible boozy taste that can conflict.
Let's hunt for a good Bloody Mary and meet up to discuss, shall we?
Related Articles:
Recent Articles

Feedback
How are we doing? Tell us what you like or don't like and how we can improve. We would love to hear your thoughts!