The Gateway to Craft Beer: Part V - HopDevil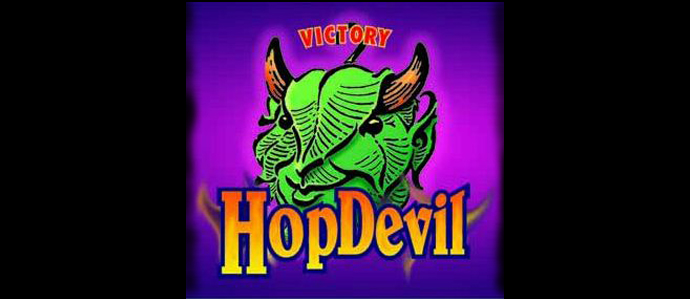 My beer adventures have been many: frequent drives up the Northeast extension to Easton, rain-drenched waits in line to secure a pour of Pliny the Younger, countless beer festivals, and a full-blown beergrimage to the Abbey of St. Sixtus in West Flanders. However, the younger version of myself certainly had no idea that I would someday structure so many of my weekends and vacations around beer hunting. There's a paradigm shift that happens to many of us when we begin to experience the enjoyment beer can provide to the five senses, as opposed to simply satisfying our sense of inebriation.
I can't claim that this changeover took place instantly as soon as any single beer hit my lips, but I can definitely remember that transitional period in which the mass produced lagers would no longer cut it for my palate, and I acquired a craving for that jewel in the crown of the plant kingdom - the hop. And the beer that I was drinking most regularly during this phase was Victory HopDevil. HopDevil to me then had a lot of mold-breaking qualities. An edgy name (long before I had heard of beers like Arrogant Bastard and Raging Bitch), an unapologetic intensity of flavor, and with the added cool-factor of local production, I imagined speaking proudly one day about remembering back when you could only get it in Pennsylvania.
Downingtown's Victory Brewing, of course, has been very successful over the years. Their flagship HopDevil is now a staple, available nationwide, but more importantly available as the craft beer option at many area restaurants and bars that otherwise serve only the macro swill. So I have many occasions to relive those days in flux, memories in which the only bitterness is that which comes directly from whole flower hops.
HopDevil would eventually play a role in one of the pivotal days of my life, as one of four beers served at my wedding reception. If I were to choose a wedding day beer line-up today, HopDevil may still make the list, albeit as the 'tame' option. For now, every time I see that satanic hop caricature on the label, it's like looking at the face of an old friend.
---
Related Articles:
The Gateway to Craft Beer: Yards Philly Pale Ale
The Gateway to Craft Beer: Part IV Hoegaarden
Recent Articles

Feedback
How are we doing? Tell us what you like or don't like and how we can improve. We would love to hear your thoughts!