Victory Summer Love Review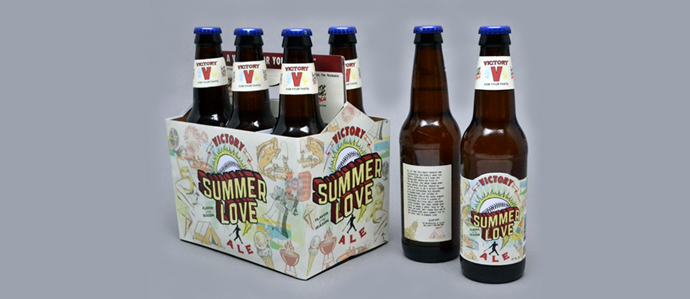 Editor's Note: Correction made regarding Victory's brewing water source on 6/20/11.
Last week, Mayor Nutter joined city tourism officials to welcome the 20 millionth visitor to the Independence Visitor Center. It's a proud accomplishment for a city too often perceived for what it can't do than for what it can.
Two weeks ago, tourism officials stood in front of a group of brewers and beer journalists to laud one Philadelphia-area attribute no one can reputably dispute: its craft-beer prowess. At that press conference, held to give the media a sneak peak of Philly Beer Week, speakers extolled a beer that was literally being released as they spoke, a beer once again brewed in partnership with the Greater Philadelphia Tourism Marketing Corp., a beer that for the first time would be sold in 29 states. A beer to spread Philadelphia love across the nation.
So can Victory Summer Love live up to the hype?
The overall descriptor for the American Blonde Ale is "refreshing," unquestionably a beer you can use to wipe the sweat off your lip. The pale German malts impart the color of sunshine but the head, despite pouring excitedly from the bottle as a clean white foam, dissipated faster than a peeling suntan upon meeting the cool glass.
The nose cleanly blended grassy and citrusy qualities that appeared in the taste. The flavor, though very accessible and mild, albeit with hints of pepper and lemon zest, devolved mid-palate to a malty depth that differentiated it from a bland or generic light-tasting beer. Perhaps it was the brewing water they source from the Upper East Branch of Brandywine Creek. Overall, that "twist" evoked the taste of a cocktail of wheatgrass mixed with seltzer.
Seltzer? The beer retained a zippy carbonation so long that the fizz could be felt long after every sip. That may have been forced by an ever so slightly slippery mouthfeel that kept washing the memory of the beer around my mouth and tongue.
Victory is undoubtedly an asset to the region and a boon to beer brewing. Summer Love adds itself to Victory's vast portfolio – one that will hopefully inspire a fleetfooted drinker to clamor to be the next visitor to drink a pint in the City of Craft-Beer Love.
---
Related Articles:
Recent Articles

Feedback
How are we doing? Tell us what you like or don't like and how we can improve. We would love to hear your thoughts!