Craft Beer Sneaks into Stadiums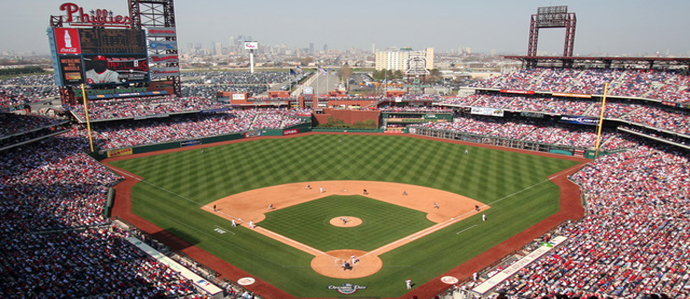 Sporting events have been historically rough for craft beer drinkers. Not only has there often little in the way of quality beer, but what is available is usually overpriced beyond belief. Fortunately, the nation's craft beer craze has touched down in baseball stadiums around the nation. You may have to pay $7 or $8 for some of these brews but at least there are an increasing number of options beyond the usual suspects. To ease the pain of the price tag, just imagine you're at a bar in Manhattan or something.
Citizens Bank Park in Philadelphia, PA
Starting out locally, the Phillies' home does not need to look far to find great craft beer. Standouts on taps around the stadium include Philly's own Yards Philadelphia Pale Ale and South Jersey's Flying Fish. Like almost every bar in the city, Philadelphia Brewing Company's Kenzinger is also available at the stadium.
Oriole Park at Camden Yards in Baltimore, MD
Two hours down 95, the Orioles' home park is not only one of the nicest baseball stadiums in the country but it also has one of the best beer selections. Camden Yards boasts Victory Hop Devil and Prima Pils, three different Southern Tier brews, Flying Dog's IPA, and Leffe Blonde. It's too bad the Orioles can't match the quality of the beer or the ballpark.
Nationals Park in Washington, DC
Traveling further still down 95, fans can find Heavy Seas' Loose Cannon, Flying Dog's In-Heat Wheat, and Dogfish Head 60 Minute IPA. Many Phillies fans are already familiar with these selections as it has been well-documented (http://philly.barstoolsports.com/around-barstool/in-case-you-somehow-forgot-phillies-fans-own-nationals-park/ ) that many Philadelphians make the trek down to DC whenever the Phillies play the Nationals.
Safeco Field in Seattle, WA
Not to be outdone by the East Coast, the Padres' ballpark has Lagunitas' delicious IPA, Anchor Steam. Safeco also has a number of beers from local breweries Snoqualmie Falls and Mac & Jack's at numerous places throughout the stadium.
U.S. Cellular Field in Chicago, IL
Bell's Oberon is one of the craft beers that can be purchased at the White Sox ballpark. Last year, a beer garden opened in the stadium and adds a number of craft beer selections to a stadium that had lacked quality beers in the past.
---
Related Articles:
Recent Articles

Feedback
How are we doing? Tell us what you like or don't like and how we can improve. We would love to hear your thoughts!