Wine Prices in PA Called Competitive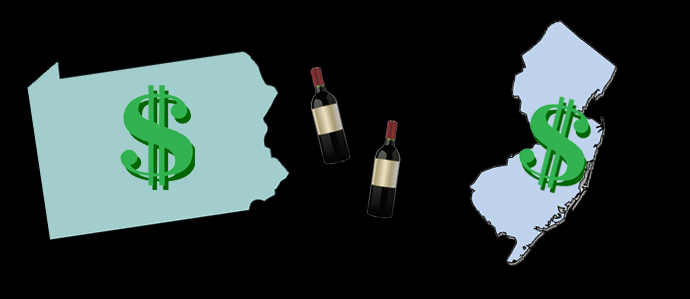 Remember that old joke about how when you assume, "you make an ass of you and me?" According to a new study by the Harrisburg Patriot-News, assuming that you'll score a better deal on your wine and liquor purchases by heading out of PA may not make you an ass, but it may be making you poorer.
According to the paper, "…a survey of liquor stores in four states conducted by the Harrisburg Patriot-News reveals that prices aren't always better across the state line. In fact, in some cases, Pennsylvania prices are cheaper."
Got to admit, we're surprised. So surprised, we couldn't quite believe it without a little study of our own.
Let's take a bottle of one of our summer weather go-tos: Monkey Bay Sauvignon Blanc. Fine Wine & Good Spirits (the Pennsylvania state store chain) has it on sale for $9.99. regular price: $11.99. Total Wine in Delaware: $6.97. Hmm.
What about something more mainstream, even if it's not our personal tastes? The ever popular Yellow Tail Chardonnay. Fine Wine & Good Spirits: $7.99. Total Wine: $5.97. Umm.
Okay, let's give this one more shot. Let's aim high … something for a special occasion. But nothing to obscure. A nice bubbly Perrier Jouet Fleur de Champ. Fine Wine & Good Spirits: $129.99. Total Wine: Ditto. Whew.
Obviously, our study certainly wasn't scientific or exhaustive; it was conducted in a span of about 15 minutes. Even in the case study, alcohol purchased out of state was less expensive in 24 cases, and more expensive in 26 cases - a fairly even tossup. There are no reports on what the types of alcohol studied were.
Ultimately, it does not prove that crossing state lines is the way to go when looking to save some cash on your next glass of vino, and that the affordability factor comes more into play dependent on what bottle you plan to be purchasing. However, this does make us feel better about our previous assumptions - and like much less of an ass.
---
Melissa Auman Greiner is a born and bred Philly girl with a soft spot for the city's growing food and wine scenes, leafy green squares and sultry summers. Just don't get her started on the inadequacy of SEPTA. With nearly 10 years of experience covering the city for a variety of newspapers, magazines and websites, it hasn't just been her pleasure to visit Philly's best bars and restaurants -- it's been her job. And with an advanced certification from the International Sommelier Guild under her belt, she brings her city savvy and wine know-how together to deliver Drink Philly readers the latest info on Philly vino.
---
Related Articles:
Recent Articles

Feedback
How are we doing? Tell us what you like or don't like and how we can improve. We would love to hear your thoughts!