Frozen Ghost Vodka
If you're going to drink vodka, it might as well have a good story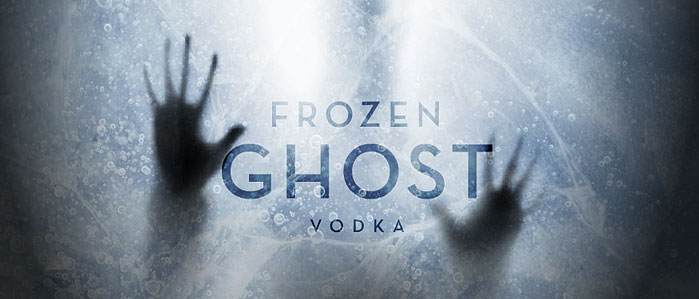 In the U.S., vodka is one of the most popular spirits, and brands abound. Trying to eek a profit in this saturated market takes a lot of effort. Several companies employ celebrity spokespeople. Others rely on the shape of their bottle. Some, like Dan Aykroyd's Crystal Head, use both. Frozen Ghost Vodka, which made its debut in 2010, is trying a new tactic: the scary back-story.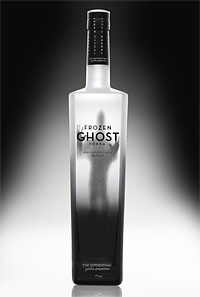 Frozen Ghost's bottle is certainly striking. An eerie silhouette of a man seems to be trapped behind the frosted glass casing, as if struggling to get out from within. This fits nicely with the "Legend of the Frozen Ghost," featured prominently on the brand's website. As the company would have you believe, the water used to make the spirit comes from a pond that is cursed, haunted by the spirit of a jealous farmer who tried to steal the amazing liquid for his own use. When the product first launched, a series of cinematic trailers were released in movie theaters around the country, detailing the fable in horror movie style.
Supernatural or not, the pure springs of Western Canada are famous for the clarity and sweetness of their water, so the spirit, distilled from Canadian grains, is smooth and crisp, especially after six sets of filtration. Vodka doesn't have very much character to begin with, so along with good ingredients and distillation practices, a bit of mythology can't hurt its chances of being a success. Frozen Ghost is currently available in 10 states, including Ohio, Missouri and Texas, and is continuing to expand across the nation.
Recent Articles

Feedback
How are we doing? Tell us what you like or don't like and how we can improve. We would love to hear your thoughts!