Top 3 Ways to Serve Ice in Cocktails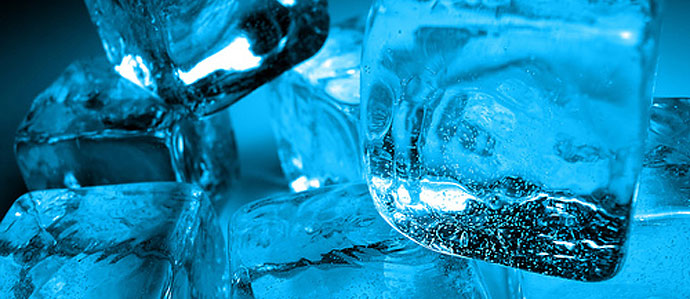 If you've spent time in any high-end drinking establishments lately, you may have noticed a new element in your beverages. More than just an afterthought, ice is recognized by today's mixologists as one of the crucial constituents of a proper cocktail.
History
Prior to the 1800s, liquor was imbibed at room temperature, or in hot beverages such as a toddy. In the first half of the 19th Century,
Fredric Tudor
– known as "
Boston's Ice King
" – came up with the idea of cooling drinks with his blocks of ice, harvested from Walden Pond and other freshwater springs. His brainstorm quickly caught on, and people have been enjoying refreshingly chilled cocktails ever since.
In the 20th Century, ice served in commercial establishments became bastardized. Machines cranked out air-bubble-ridden chips as quickly as possible, in tubular shapes designed to take up space in a glass. Enter
Sasha Petraske
of NYC's
Milk & Honey
, who in the '00s introduced the idea of designer ice, where each cube or shaving was crafted specially for each libation to create the optimum drinking experience. Bartenders quickly embraced this trend, and have begun to think of ice as one of the most important ingredients in their arsenal.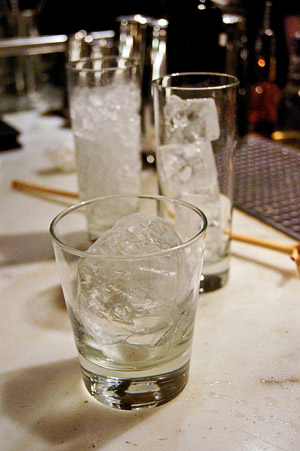 Today
These days, better bars generally use three types of ice to create differing effects. The main goal of all is to extend the prime drinking period (with the liquid at 20–25 °F) as long as possible. This allows the drinker to slowly sip and savor, instead of trying to chug the whole thing down before it becomes overly diluted.
Kold-Draft Cubes
Enter
Kold-Draft
, which currentlyseems to have a monopoly on high-end ice makers. The machines produced by this company use a slow-freezing process that occurs from the bottom up. As the liquid cools, it is constantly stirred, forcing all the air bubbles to move to the top. This assures cubes are clear and contain no cloudiness, which allows them to melt much more slowly. Drinks are often shaken or stirred with Kold-Draft cubes, to achieve optimum coldness without a lot of dilution, and then served over more cubes or "up," in a coupe or martini glass.
Big Rock
For classic cocktails such as an Old Fashioned, bartenders will use a solid lump of ice, hand-carved from large block. The big piece of ice – almost the size of the glass – has a high volume and low surface area, so it melts extremely slowly, providing cooling action while avoiding watering down the booze. At Philadelphia's
Franklin Mortgage & Investment Co.
, the "Coal Cracker Cocktail" is a current example of such a tipple, composed of rye whiskey, Galliano, blackberry syrup, sarsaparilla tincture and Angostura bitters. Manager
Colin Shearn
tells us the Franklin gets their block ice delivered in big 50 to 75-lb blocks.
Cracked or Shaved
Cracked or shaved is the third useful form of ice, and it is mainly used for a specific type of drink called a swizzle. In a tall glass, crushed pieces of ice are packed in, all the way to the top. As a rule, cocktails served this way are mixed up potent and sweet, and when they are poured through the ice, the high surface area provides a welcome bit of melt that rounds out the flavors. However, because there is so much ice, and it's so tightly arranged, the entire glass achieves a "critical coldness," a frost develops on the outside, and the ice does not dissolve any further.
So next time you stop in to your favorite speakeasy, pay attention to what cools down your order – it's likely more than just simple frozen water. If you want to get in on the ice game at home, check out these extra-large
silicone trays
that allow you to freeze up big, compact blocks, or
Muji's molds
to make huge ice spheres of your own.
Photo: ice used at Franklin Mortgage & Investment Co. by Danya Henninger
h/t Barry's Homebrew Outlet for the Muji mold link

Recent Articles

Feedback
How are we doing? Tell us what you like or don't like and how we can improve. We would love to hear your thoughts!