19-Year-Old Beer Burglars Arrested
Don't drink & steal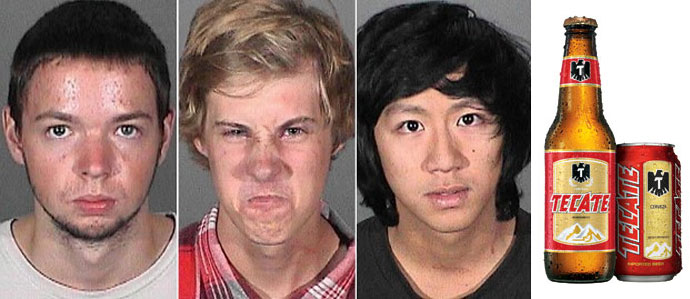 When will teenagers learn? If you're going to go to the effort of stealing beer, you might as well choose a high-end brand. Last week, three 19-year-olds were apprehended in Covina, Los Angles County, CA after allegedly stealing a 30-pack of Tecate from a convenience store.
Their escapade took just about every wrong turn imaginable. Inside the store, the three buds got into an argument about which brew they were going to snag, according to the arresting police officer. A market employee caught wind of their plans, and questioned them, at which point they ran from the store and jumped in the car with the case of cans.

Trying to stop the alleged thieves, the employee jumped on the car, which subsequently crashed into a nearby taco shop. One of the culprits fled, but left behind his wallet, which gave away his identity. Another dashed into a tunnel of a nearby carwash, where he was drenched with soapy water, before being captured. Just remember folks, stealing and drinking – not a good match.
Photo via Covina Police Dept./AP, article via
ABC News
Recent Articles

Feedback
How are we doing? Tell us what you like or don't like and how we can improve. We would love to hear your thoughts!