National Vodka Day: From Russian Standard to Vodka Light (Voli)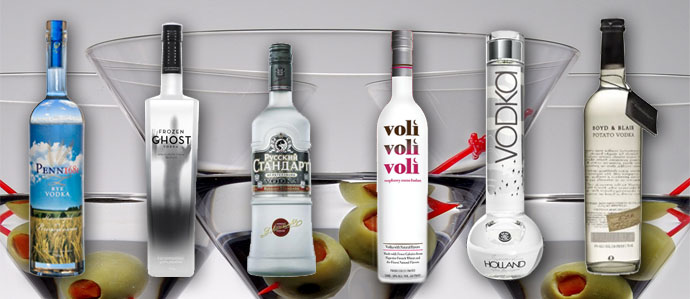 October 4 is National Vodka Day. Though rarely consumed outside Europe before World War II, the clear spirit has climbed in popularity in the United States, overtaking bourbon in the 1970s as the country's favorite liquor. Brands now abound, and – as flavor variation is minimal – rely on all kinds of gimmicks to stand out in a crowded field.
Last week we highlighted Frozen Ghost Vodka, a brand that uses a scary back-story and bottle to make its mark. Holland's Bong Vodka uses the shape of its container (yes, like a bong) to garner attention. Other brands use local sourcing and sustainability to stand out, like Philadelphia Distilling's Penn 1681, made with Amish Country grains in recycled glass bottles, or Boyd & Blair, made from potatoes local to the Pittsburgh distillery. Russian Standard relies on its heritage, the spirit being deeply entrenched in the culture and history of Russia.
New to market is Voli, a product that reminds us a lot of Chick Beer. Made from spirits produced by the venerable Roullet-Fransac in Cognac, France, Voli stands for "vodka light" and the drink is marketed as a low-calorie drink option. All five flavors (original, espresso-vaniilla, raspberry-cocoa, orange-vanilla and lemon) have 25–40% fewer calories per ounce than regular options. A look at the ingredients shows the calorie reduction is achieved in part by blending the wheat vodka with pure spring water, bringing the proof down to 60–70, instead of the regular 80-proof. So while a single pour may be better for your waistline, know that you might need to imbibe 25% more to achieve the buzz you're used to.

What's your favorite vodka brand? Let us know in the comments, on Facebook, or on Twitter.
Background photo via Flickr user Kyle May
Recent Articles

Feedback
How are we doing? Tell us what you like or don't like and how we can improve. We would love to hear your thoughts!