New Imperial American Tripel: Iron Hill Brewery's FE 15
Photo: Bobby Douglas (Newark Assistant Brewer), Mark Edelson (Partner and Director of Brewing), Kevin Davies (Partner and Director of Culinary), Justin Sproul, (Newark Head Brewer), Kevin Finn (Partner and President)
When drinking buddies Kevin Davies, Mark Edelson and Kevin Finn opened their first brewpub in Newark, DE in 1996, they had big dreams. What happened over the past 15 years surpassed even that vision. Their successful local chain now has 750 employees working at eight locations across three states (with a ninth branch on the way). In early October, for the 15th year in a row, Iron Hill offerings won medals at the prestigious Great American Beer Festival. This autumn, the three owners gathered at their original locale to brew a 15th anniversary commemorative beer dubbed FE 15 (Fe being the chemical symbol for "iron"), and we tagged along for a behind-the-scenes look.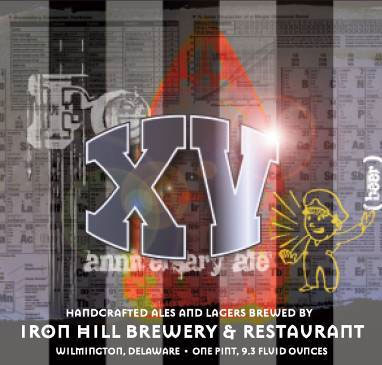 Due to be released mid-November, FE 15 is an Imperial American Tripel, a style the partners are proud to pioneer. Two types of yeast will convert pilsner malt into brew: a Trappist Belgian Abbey and a Champagne variety. Five different US-grown hops will add flavor and bite. The ale will end up at awhopping 15% ABV, a number that first made Edelson was a bit wary, until Finn twisted his arm by repeating the mantra, "15 years, 15 percent! Hell, yeah!"
To achieve this, 650 pounds of grain were mashed into 120 gallons of water. The trio swapped dress shirts for tees and took turns stirring the boiling mixture, each becoming soaked with perspiration before handing off the wooden paddle to the next partner. Every Iron Hill Brewery & Restaurant has its own master brewer, and Newark's Justin Stroul was on hand to direct and fine-tune the brewing process.
FE 15 will be on draft at all eight locations (Newark, DE; Wilmington, DE; Media, PA; West Chester, PA; North Wales, PA; Phoenixville, PA; Lancaster, PA; and Maple Shade, NJ) and will also be sold for $24.50 in cork-finished 750 ml bottles for take-home enjoyment.
Bonus: check out this video of the Iron Hill team celebrating the GABF wins.
Photos by Danya Henninger
Recent Articles

Feedback
How are we doing? Tell us what you like or don't like and how we can improve. We would love to hear your thoughts!