Free My Drink?
Is state-run liquor socialist?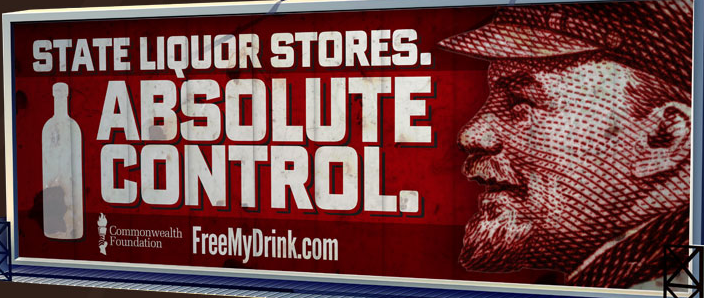 Are state-run liquor sales a symptom of socialism? A new website from the conservative Commonwealth Foundation tries to make that case, and uses the image of Chinese leader Mao Tse-tung to underscore the connection.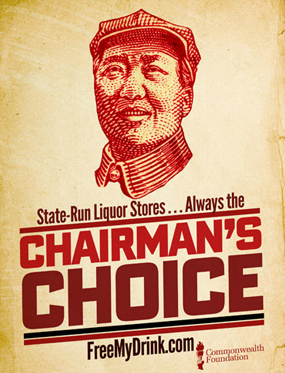 Ever since the discovery of fermented beverages (and their attendant effects), the storylines of alcohol and politics have been intertwined. Struggles over the distribution and regulation of booze have contributed to the formation of religions (water into wine had to be one of the more convincing miracles) and also unlikely coalitions, such as the alliance between white supremacy Southern Democrats and pro-women voter Northern Suffragists that led to Prohibition.
In the U.S. today, 21 state governments involve themselves directly with the alcohol trade. A step beyond just taxing or regulating commerce across and within their borders, states like New Hampshire, Virginia and Alabama are the distributors, wholesalers and retailers of buzzy goods. Pennsylvania is also such a state; the Pennsylvania Liquor Control Board (PLCB) was created in 1933 and has held a tight grip on PA wine and spirits ever since.
It's the PLCB that's the target of FreeMyDrink.com. Following up on a campaign promise from PA governor Tom Corbett, the state is seriously considering privatizing liquor sales. The "Let Freedom Drink" website takes this consideration to the extreme.
Riffing of the PLCB's embrace of the title "chairman" (special wine buys are designated "Chairman's Selections"), Free My Drink enlists imagery of Chairman Mao to concoct a tongue-in-cheek propaganda campaign with a zeal reminiscent of McCarthyism. With hipster-esque posters and graphics, the message is presented by "solid, sober citizens," exhorting visitors to "let freedom drink!"
While we're firmly behind the dual concepts of freedom and drinking well, we're really not sure state control over our spirit stash counts as Communism. Obnoxious bureaucracy? Perhaps. Marxism? Doubtful.
Recent Articles

Feedback
How are we doing? Tell us what you like or don't like and how we can improve. We would love to hear your thoughts!