Shipwreck Rum: A Voyage of Barrel Aging and Exotic Spice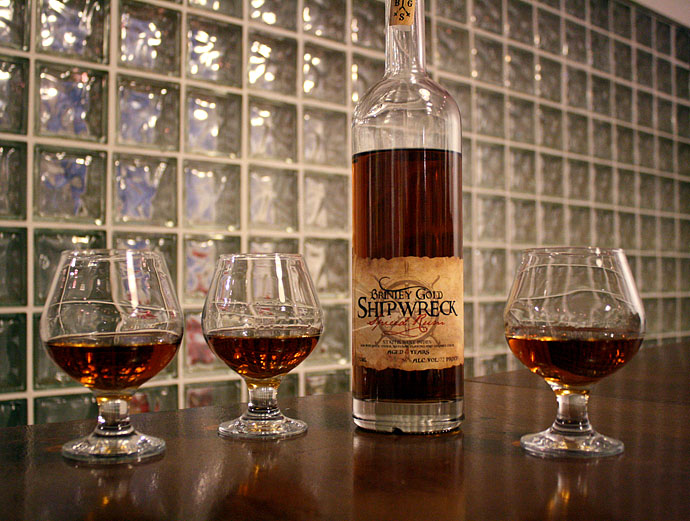 St. Kitts-based Brinley Gold has a new offering, and it's a step above your average pirate's swill. The decade-old purveyors of a variety of flavored rums recently launched Shipwreck Rum. This new spirit is the first spiced rum to have been barrel-aged for four years before bottling. Now available in 20 US states, as well as throughout the Caribbean, it's a cane spirit worth tasting.
Shipwreck kindly sent a bottle to The Drink Nation offices so we could try out the deep flavors for ourselves, with a recommendation that we take the first few sips neat. They were right. The oak casks impart an impressive body to the booze, so that the liquor feels more like an fine Irish whiskey than the cloyingly-sweet swallow rum often provides. After pleasantly warming your throat, Shipwreck leaves an extremely light citrus and vanilla coating on the tongue. If you're on a first date, make this your pre-kiss quaff.

In mixed drinks, this rum should please even discerning cocktail snobs, with flavors that are strong enough to be found under sugary overtones, yet seem ripe for blending. A hot rum toddy with apple cider and cinnamon would become an elevated option using this four-year-aged brown spirit. But don't consider ruining Shipwreck with syrupy Coca Cola. This is a spirit that can stand on its own, even if you're not a big rum fan.

The recipe and bottle are dedicated to the an actual British troop ship that sank off the St. Kitts coast in the late 1700s, and the inside of the faux-weathered label sports an "SOS" message from a British Soldier, captured by the French navy. Look for Shipwreck at a liquor outlet in your area in the near future, and check out the autumn cocktail recipes, below.

Spiced Rum Toddy (Serves 4)
3 cups apple cider
4 cinnamon sticks
1/2 cup spiced rum
1/2 cup cinnamon schnapps

In a medium saucepan over medium heat combine all ingredients and heat through. Do not boil. Mull for 45-60 minutes. Serve warm in a mug with cinnamon sticks or nutmeg to garnish.

The Original
2 oz. Shipwreck Spiced Rum
2 Dashes Peach Bitters
1 Dash Angostura Bitters
1 Bar Spoon Maple Syrup
Dash cinnamon

Add ingredients to a mixing glass, and stir with ice. Strain into a rocks glass filled with fresh ice and garnish with an orange twist.
Recent Articles

Feedback
How are we doing? Tell us what you like or don't like and how we can improve. We would love to hear your thoughts!