Panther Creek Pinot Noir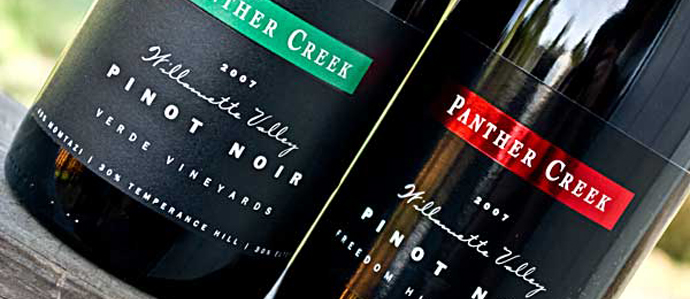 When people find out that you know something (anything) about wine, they instantly consider you their new go-to guide. I get calls from people standing in the middle of the state store, looking aimlessly at the rows of bottles and hoping I can virtually send them a beacon of light. I'm expected to bring the wine to many a gathering. And when we are out at the bar, people simply hand me the wine list and ask me to "find something they'll like."
No pressure, of course.
Finding a bottle that speaks to the masses is no easy task, and with vintages of some wines varying drastically from year to year, even a good old standby can blow up in my face. That being said, there are a few consistent winners I am confident to always name drop.
If you are looking for a red that's flavorful but not too in your face, something that can pair with a variety of foods but drinks well all by its lonesome, let me introduce you to Panther Creek Pinot Noir.
Panther Creek hails from Oregon's Willamette Valley, in my opinion one of the best regions for pinot. Sure, Burgundy pretty much baths in the stuff, but the fruity berry flavors and on-point funkiness of bottles from this region almost always impress.
Yes, I said funkiness. Good pinot delivers elements like barnyard, mushroom and tobacco. It's a good thing. The mustiness of a good pinot noir nose paired with the raspberry jam flavor you discover on the tongue – it's addictive.
Panther Creek's options are consistently impressive. They are smooth, round and fruity, making them a great starter red for a newbie, but have just enough of that complexity that an old pro can appreciate them, too.
Panther Creek owns a number of vineyards in the region, resulting in a series of different bottles at, of course, different price tags. Expect to pay between $39 and $29 a bottle (at most PA Fine & Good Spirits stores). Steep? Perhaps, depending on your budget. But pinot is a little more delicate than other grapes, meaning it costs a little more to grow and make. Most people would say $30 for a sure thing is an easy decision. You be the judge.
---
Melissa Auman Greiner is a born and bred Philly girl with a soft spot for the city's growing food and wine scenes, leafy green squares and sultry summers. Just don't get her started on the inadequacy of SEPTA. With nearly 10 years of experience covering the city for a variety of newspapers, magazines and websites, it hasn't just been her pleasure to visit Philly's best bars and restaurants -- it's been her job. And with an advanced certification from the International Sommelier Guild under her belt, she brings her city savvy and wine know-how together to deliver Drink Philly readers the latest info on Philly vino.
---
Related Articles:
Recent Articles

Feedback
How are we doing? Tell us what you like or don't like and how we can improve. We would love to hear your thoughts!