Stone Cali-Belgique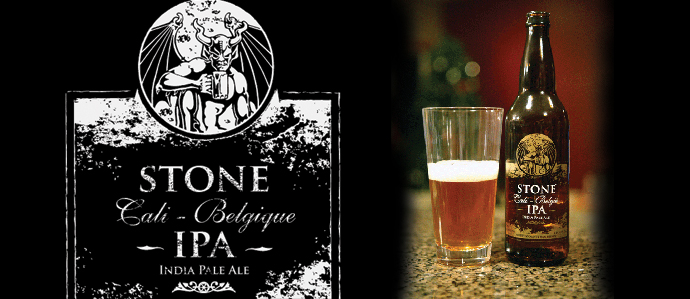 As a member of southern California's bustling craft beer scene, Stone is the largest of the region and a true power in American craft brews. Cali-Belgique IPA is a new "sister-brew" of a tried and true flagship beer from the company, the Stone IPA. As the bottle indicates, Cali-Belgique IPA is simply Stones' IPA brewed with Belgian yeast to create a distinct new flavor.
Poured from a tall, 22oz bottle into a small tumbler glass, Cali-Belgique has a very crisp, golden color with a visible carbonation. The use of Belgian yeast creates a nose less about west coast hops and more about something entirely different. There are some funky, almost sour notes created by the yeast, but the scent still says "IPA."
This brew tastes similar to their famous Stone IPA only to have uniquely Belgian flavors emerge with the each sip. Crisp, grapefruit citrus flavors are followed by some spices and sour fruits. These balanced flavors are rounded out with a dry finish and a slightly sweet after taste.
This is not a straightforward Belgian IPA, but is rather a great variation on the much-beloved Stone IPA that offers a lot to the hophead in us all. With its Belgian characteristics generated by a different yeast strain, Cali-Belgique offers a new perspective on a trusted brew. Stone beers are available all over the area, especially in craft beer bottle shops.
---
Related Articles:
7/12: Yards Beer Dinner at Kennett featuring Culton Organics
Recent Articles

Feedback
How are we doing? Tell us what you like or don't like and how we can improve. We would love to hear your thoughts!