Revolution House Review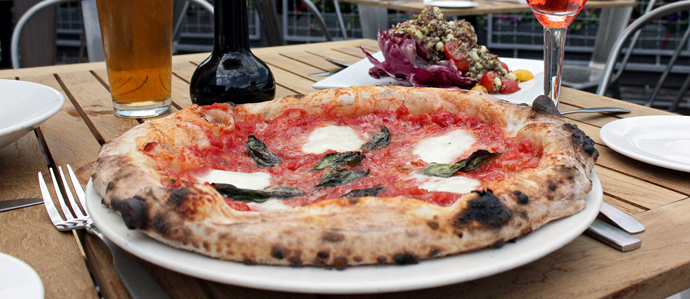 Photo © Danya Henninger for imagic Digital.

Say hello to my new favorite happy hour hot spot. Revolution House, the new bar/restaurant that took over what was once the home of the Snow White Diner, rocked my socks off. I'll be honest… this is exactly what Old City needed to make me walk the 6 blocks from my apartment.

Revolution House has 3 levels. The lower level consists of the bathrooms with a fabulous couch to wait on in the hall. Levesl 2 and 3 have a bar and plenty of restaurant searing. Best of all, the top floor has a door which leads to a fantastic roof deck. The roof deck was decorated with beautiful flowers and plants and had an equally great view.
The inside of the restaurant features wooden bars and wooden chairs with tables and bar stools of slate. The whole place had an antiquey, vintage feel which I loved. There are also Old English beer cans flattened and framed on the wall and fresh flowers at the on the bar.

From 5-7 PM during the week (only at the bar), Revolution House features $3 off any pizza, half off their drafts, and $5 for their red and white house wines. Normally, the pizzas range from $10 - $15 and their drafts range from $6 - $8, making Happy Hour quite affordable. At the time of our visit, the drafts included Ommegang, Ithaca, Sixpoint, and Yards. I got an Allegash White for only $3.50. Some of their featured pizzas included Margherita, Caprese, Marinara, and Ricotta & Provola (which featured ricotta, mozzarella, and prosciutto). My friend and I of course ordered the Ricotta and Provola.
The pizza was 8 slices, and was probably around 14 inches. It was to die for. Revolution House has a custom brick oven, adding to the deliciousness. We also ordered an appetizer which was pretty reasonably priced, although we had a tough time choosing. After narrowing it down to tater tots, baked ricotta, calamari, or bean dip, we ended up choosing the baked ricotta. Good decision. The hot ricotta was served with pineapple and mango salsa and pita bread for dipping. If I had to live off of this dish for the rest of my life, I would be more than okay with that. Between the pizza and appetizer, it was the perfect amount of food for the two of us.

Though happy hour was only limited to the bar seating, we were told that we were allowed to sit at this adorable couch which was apparently part of the bar. A very cozy spot indeed. Because Revolution House is pretty new, wait staff still seemed to be getting accustomed to it, therefore, service was a tad slow and our server changed throughout the night. Other than this minor setback, I must say that Revolution House gets a winning review from me.

There is no other bar like it in Philly.
Related Articles:
Weekend Picks for 7/7 through 7/10
Yards Cape of Good Hope Seasonal Announced
Recent Articles

Feedback
How are we doing? Tell us what you like or don't like and how we can improve. We would love to hear your thoughts!