Free Beer Used to Trap Criminal Suspects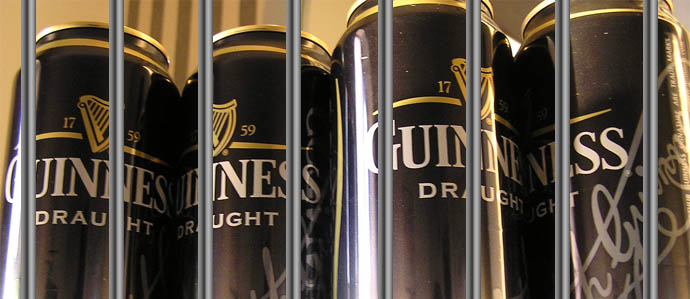 Free beer! It's a compelling call, even when the ale isn't of the highest quality. Who among us hasn't grudingly accompanied a colleague to an after-work event when being taunted with the opportunity to drink brews without paying for them? The draw has not gone unnoticed by UK police, who used the bait to trick several people who had evaded arrest into coming forward.
Undercover officers in the Derbyshire police force sent out letters to dozens of no-shows, telling the suspects that they had won a free case of beer. All the recipients had to do to collect was give out their address and set a date and time to receive the delivery. No less than 19 fell for the malty temptation, though instead of cashing in for gratis drinks, they were each handcuffed and arrested on the spot.
Though it's unfortunate to see beer being used in a negative way, some of those who were snared in the trap were accused of serious crimes, from burglary to robberty to sexual assault, so we have to applaud the end result. Would you give out your address to an unknown entity for a case of free brew? It's a question to ponder.
Via the UK Telegraph, Parley's Pub & BeerGivr
Base photo via Flickr user dahon
Tags:
Beer
Recent Articles

Feedback
How are we doing? Tell us what you like or don't like and how we can improve. We would love to hear your thoughts!