Strawberries Protect the Stomach from Alcohol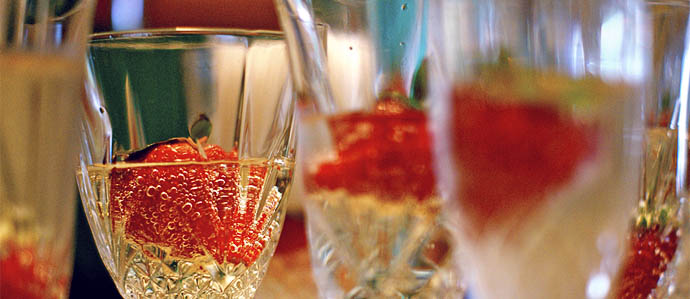 Strawberries and champagne is a classic pairing, with the sweet succulence of the berry playing perfectly off the bright acidity of the bubbly, leading to a palate-pleasing experience. Now, it seems there may be another reason to enjoy the bite-size fruit if you're a fan of imbibing. A team of European researchers confirmed that strawberries have protective effects on mammalian stomachs damaged by alcohol.
Though drinking is not the only cause of gastritis (inflammation of the stomach lining), it is one of the most common among humans. Using rats as proxy (fair enough), the scientists found that a diet rich in strawberries helps preserve the mucous membrane of the inner tract. This is not only because the bright red fruit is rich in antioxidants itself, but it also seems to activate the body's own defenses against free radicals and other cell-damaging molecules.
The effects only come from raw fruit, so don't go chugging that jar of jam just yet. Happily, we now live in a country where even the most tropical of fruits is available year-round, almost anywhere in the country. Though a pint of the summer crop may be pricey right now in the northern parts of our nation, think of that cost as minimal compared to a big gastro-health bill. Also, strawberries are one of the easiest crops to grow indoors.
So sing it as you sip: strawberry fields forever!
via Gizmodo
photo via Flickr user David Ensor
Recent Articles

Feedback
How are we doing? Tell us what you like or don't like and how we can improve. We would love to hear your thoughts!