Drinkify Your Music, Kinda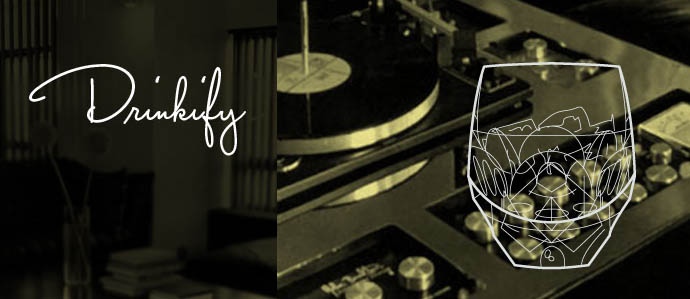 With much of the world's popular music now available in the cloud, it's easy to have a computer decide what you listen to next. If you've ever set up a "station" on Pandora, LastFM or Spotify, an algorithm behind the scenes is busily at work, digging up a song that will fit your tastes. But what if your tastes include catching a buzz with your tunes?
In a fit of self-described boozy inspiration, three developers at Boston's recent Music Hack Day took it upon themselves to apply The Echo Nest's open API music recommendation engine to pair drinks with music. In 24 hours, the trio put together an attractively designed site that asks what artist you are listening to, and purports to provide a tipple to suit the melody.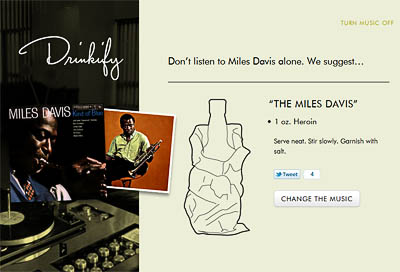 Sounds pretty slick, right? The only problem with Drinkify so far is that – in the developers' own words – "booze still doesn't have an API." So although the site looks fancy, it comes up with some rather inexplicable or mundane (yet admittedly funny) suggestions.
For example, the drink you should have while listening to Miles Davis? One ounce of heroin. And don't miss the serving directions for your narcotic: "Serve neat. Stir slowly. Garnish with salt." (We're not sure what happens when you stir up opioids with sodium chloride, but it can't be good.)
How about a sip that pairs well with Miley Cyrus? We'll accept the response of 10-oz. Red Bull as pretty darn accurate. And Madonna's suggestion of 4-oz. vodka would be spot-on, if you weren't advised to add pickled carrot sticks as garnish.
So the concept is there, but the back end definitely needs some work. Anyone have time to go through the 30 million songs in Echo Nest's database and decide what cocktails go with which refrains? We'll buy you a drink.
Recent Articles

Feedback
How are we doing? Tell us what you like or don't like and how we can improve. We would love to hear your thoughts!