International Great Beer Expo 2009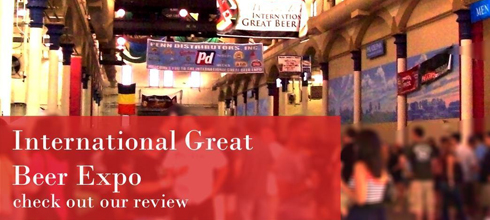 I stepped through the doors of the Broad-Pattison station, and scanned the surrounding area for my shuttle. Hidden behind a tree, I saw it; a yellow school bus, with a hand-written piece of notebook paper taped to the window, labeled "beer fest" with no particular flair or character.
The bus driver and I drove in silence to our destination. I stepped out of the bus, and peered through the windows of the unlabeled building. I had been promised over 100 different beers, and over 50 international brewers. I had arrived at the International Great Beer Expo.
The attendants scanned my ticket, and we exchanged pleasantries. I explained Drink Philly's mission, and received my fancy little 6 oz. commemorative plastic tasting glass (complete with fill line markers). I took a quick scan around the room, and took note of the 30 some-odd brewers that had chosen to show up. This wasn't quite the 100 I was promised, but I certainly wasn't complaining.
Halfway down the large hall, a snack station was selling what appeared to be "the best drunk food ever." Meat Loaf sandwiches, chicken Caesar wraps, pretzels, and other typical bar fare could all be purchased. Though beer was in abundance, you could buy bottles of water. Go figure. Add in hot wings, and we would've had my favorite kind of Saturday night ready to go.
Making a mental flow chart of my options, I set out for the emptiest stand I could find. Hello, Hometown Beverage's Pennsylvania Lager.
Now, to come to Philadelphia and tout a great lager is no small boast. Anyone who knows a Philadelphian understands that "lager" is synonymous with "Yuengling." I stepped up to the plate and offered my glass.
I took a sip of the beer as the excited gentleman looked on. "It's very smooth. Very drinkable," he said. Smooth indeed, but nothing terribly exciting popped into mind. It had a sweet peak with a medium-bodied finish, but wasn't anything that truly fascinated me. I might recommend this beer to someone who was looking to host a party with a "cheap beer" option that wouldn't make you violently ill. I could drink this, I'm just not entirely sure I'd want to only drink this.
I took a step to the left and greeted the gents who were offering one of my new favorites from Ithaca Beer Company. I recently tried Ithaca's CascaZilla at 15th and Walnut's Good Dog, and was reminded of the delicious hoppy goodness they had worked so hard to bring me. Next to the CascaZilla, Ithaca also offered their Apricot Wheat.
The Apricot Wheat was an explosion of fruit flavor and light in body. An avid fan of Magic Hat's #9, I found a lot of similar notes in the flavor profile. Ever since Pyramid Breweries decided to change their marketing scheme from "We Are A Beer Company" to something I'd expect to see in a Capri Sun commercial, I had been looking for another option. I think I may have found it!
As a side note, let's get serious, Pyramid Breweries. Changing your beer name from "Apricot Ale" to "AUDACIOUS" does not win you cool points. Not even if you use all capital letters. You win no prizes for doing this. You only lose some of my respect.
Onward to the Rogue station; this was probably one of my favorite stops, because as many beer lovers know, Rogue makes a great beer. They offered the Dead Guy Ale, and though I am quite familiar with its sweet, honey-laden, hoppy taste, I handed over my tasting glass. The Dead Guy Ale always surprises me with its lighter body, paired with a taste that just runs rampant on your taste buds.
I decided to survey the scene a bit before continuing. I had a lot of beer to cover, and I wanted to make sure I hit the most interesting. All sorts of random vendors had shown up, selling everything including but not limited to T-Shirts, candles made from recycled liquor bottles, and AmeriKilts (I have been informed that they are the casual, American kilt).
I managed to make my way well around the tasting tables, searching for the most popular beer at the event. After asking around, it seemed an overwhelming majority kept returning to the table offering Kira, a Belgian White Ale. I filled my glass and found a new favorite.
Kira's website is a little mysterious. To say it's minimal is an understatement, offering only a small selection of links and information regarding the beer. If you can find it, I'd recommend giving it a go. The orange and coriander notes typical of many Belgian whites flood your nose with each sip. There is almost no bitterness to this beer, and it has a clean, fruity finish. Fans of Hoegaarden will love this beer.
Harlem's Sugar Hill made an appearance with their golden ale, and I couldn't help but be a little curious. I was pretty excited for this beer, but quickly found myself feeling disappointed. The one thought that kept screaming in my mind was how surprisingly bitter it was! It had some sweet malt flavors to it, but the bitter finish really overrode that for me.
At this point, I needed to take a little break for food. Feeling like a true glutton, I had to compromise and get something filling and green. I grabbed a chicken Caesar wrap, and chowed down. I can't tell if it was my empty stomach, the beer, or my love of all things Caesar-dressing-related, but I felt I had made a good choice. In the back of my head, I still longed for hot wings.
I spotted a lager that made my heart sing not just for the taste, but for the nostalgic value it held. Harbin Lager, direct from Harbin, China was being offered in a little corner, tucked between some random British beers. I recalled cool summer nights of drinking it at a beer garden the summer I stayed in Harbin. I remembered sharing $1.25 pitchers ($1.50 for the dark ale) with both foreigners and locals, looking to find some sense of unity in the sweet crisp lager. My sample was just as I remembered it: a little tart, a little sweet, and made me wish I had some barbeque in front of me.
I made a stop off at the Lancaster Brewing Company and made sure to sample their tap. The Strawberry Wheat was a nice find, a wheat lager with just a hint of fruit in the taste. The aroma is wonderfully fruity, while the beer itself has a light mouth feel and a clean finish.
The second beer I sampled was the Hop Hog IPA. This beer clocks in at 7.9% ABV, and has a citrusy aroma with a dry finish. I'm not too big on IPA's, but this didn't really feel like a true IPA to me. It lacked the spiciness, and quite frankly, the hoppiness I've come to expect with a typical IPA. Given how I enjoyed the Strawberry Wheat, I was hoping for another home run. Still, I'll settle for third base.
My ticket was from 5pm-9pm, and I was surprised how quickly the time flew. I managed to sample almost 20 beers (please don't do the math, just understand the next morning was a little rough), and met some really nice folks from a wide range of breweries. For a $45 advance ticket, I would say this was absolutely worth the trip and the cost.
The Naval Yard will be holding a Winter Beerfest on November 14th and 15th. Words cannot express my excitement for it. Other fun beer events will be posted through the kind folks at PhillyBeerEvents.com who helped to sponsor the International Great Beer Expo. For a complete list of participating brewers, check out www.greatbeerexpo.com. For a complete list of all the beers I tried, see below!
Hometown Beverages Pennsylvania Lager

Ithaca Beer Company Apricot Wheat

Ithaca Beer Company CascaZilla

Rogue Dead Guy Ale

Rogue Amber Ale

Sugar Hill Golden Ale

Blackthorn Cider

General Lafayette Griffin's Mild

River Horse Double White

Harbin Lager

Desnoes & Geddes Limited Dragon Stout

Lancaster Brewing Company Hop Hog IPA

Lancaster Brewing Company Strawberry Wheat

Asahi Black

Kira Belgian White



Recent Articles

Feedback
How are we doing? Tell us what you like or don't like and how we can improve. We would love to hear your thoughts!