How A Drink Made Me Angry At Bacon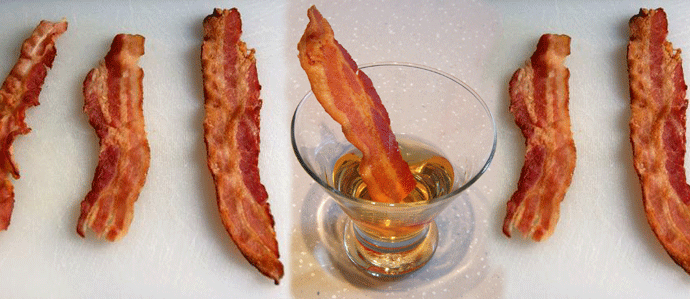 I recently discovered the Mitch Morgan through my brother, who is currently working on a magical food-journey titled Ed! Eats Things, where he attempts to consume a new food each day. The Mitch Morgan is regarded as a cocktail that consists of a shot of bourbon whiskey served with a piece of fried bacon as a cocktail garnish. The drink is named after its creator, and is a popular beverage at the Fat Alley Barbecue in Telluride, Colorado.
You can go ahead and say it sounds gross, but there was a good chance that this drink would be magnificent. After all, bacon? Good. Bourbon? Good. Why not smash the two together?
In preparation, I opted for some fine Boar's Head thin-sliced bacon. Bulleit Bourbon was the beverage on-hand, and so my brother and I dove in excitedly. After folding the bacon into the shot glasses, we poured our shots over the breakfast-y goodness, and prepared to drink.
If I had to select one word to describe the flavor, I would say it tasted like despair.
Maybe we just purchased the wrong kind of bacon, but it really didn't do much to compliment the flavors of the bourbon. Similarly, the bourbon did little to accent the flavors of the bacon. The heat from the alcohol just lingered on and on, turning what could have been a delicious bacon-related drink into a burning chewy pile of sadness.
Has anyone ever had a bacon-infused drink that they've enjoyed, or is our bacon fanaticism just filling our heads with awful ideas? Write to us at info@philly.thedrinknation.com with your culinary baconry!
---
Justin is the Editor for Drink Philly. He is an avid craft liquor/beer enthusiast, as well as a self-proclaimed "food-adventurer." When he's not with the Drink Philly team, he's off video-gaming or moonlighting as a nerdly hip-hop artist.
justin@philly.thedrinknation.com, @zillapersona
---
Related Articles:
Recent Articles

Feedback
How are we doing? Tell us what you like or don't like and how we can improve. We would love to hear your thoughts!