Presenting the (Unofficial-Please-Don't-Sue-Us) Festivus Cocktail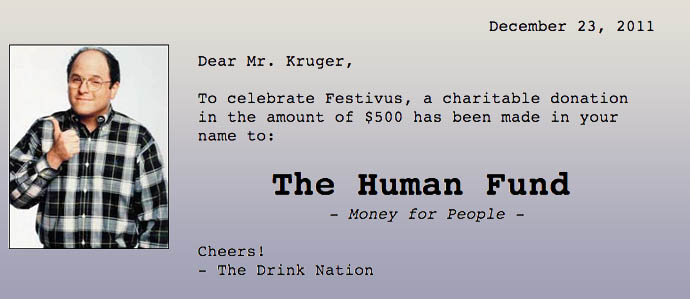 In this season of incessant "gift ideas," sales on jacked-up prices and glitzy glitter spread over all corners of the visible world, sometimes you want an escape. Happily, there's now a day that eschews all of the above, and it's becoming more renowned each year (there's even a book and website dedicated to it). Of course, we're talking about Festivus, the holiday "for the rest of us."
The pseudoliday first gained recognition when it was featured during the ninth season of Seinfeld. Based on actual childhood experiences of sitcom writer Daniel O'Keefe (whose father supposedly plucked the nom d'evenement from a 1966 book on obscure holidays), the episode has the crew gathering at George's father's to celebrate the unorthodox winter occasion.
As demonstrated by the bare aluminum pole put up in lieu of a decorated tree, Festivus is not at all like Christmas. Instead of exchanging niceties with dinner guests, there's a ceremony called "The Airing of the Grievances," in which folks tell others what really annoying things they did during the year. While not exactly the antithesis of the highly-commercialized, religion-based holiday, it's certainly something like the inverse of it [or contrapositive? any socioeconomic-logic experts out there? – Ed.].
The food traditionally served at Festivus is spaghetti and meatballs (if one follows the Costanza canon), but there does not appear to be a traditional drink to go along. On TV, the only imbibing shown is a swig from a hip flask by George Costanza's boss, Mr. Kruger. The Drink Nation has set out to remedy this, with our official Festivus Cocktail.
We tasted, tested, hemmed and hawed, and came up with the following recipe. It suits the lowbrow nature of the day while still incorporating a seasonal element (and bitters – Festivus has plenty to do with being bitter). Plus, it will get you pleasantly tipsy. Let us know if you try it!
The (Unofficial-Please-Don't-Sue-Us) Festivus Cocktail
10 oz Christmas ale (or other winter warmer beer)
1 oz Bourbon
3 dashes Peychaud's Bitters
Pour beer in glass, add whiskey, add bitters, swirl with your pinky. Enjoy!
Top image via Web Page About Nothing
Recent Articles

Feedback
How are we doing? Tell us what you like or don't like and how we can improve. We would love to hear your thoughts!