Downey's Named Worst Irish Pub in America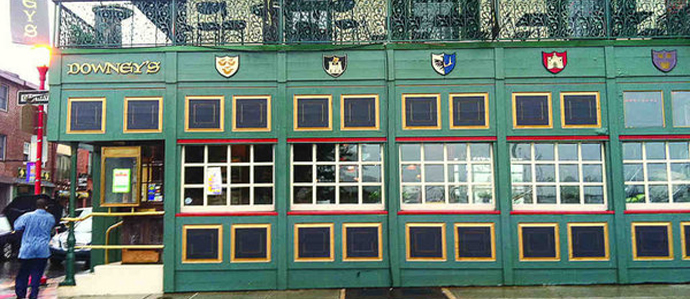 Long-standing Society Hill bar, Downey's, has been named the worst Irish Pub in America by IrishCentral.com; quite a feat considering how many awful pubs of that sort there are around the country. The struggling bar reportedly racked up a rather impressive 51 health-code violations in a three-hour scan by a city health inspector back in March.
Decomposing rat carcasses were discovered during the inspection, and patrons often complain of the smell of mildew and the presence of fruit flies, not to mention the lack of quality of the food. The bar must pass two clean inspections in order to get the city off its case. The employees at Downey's appear to have quite a cleanup ahead of them. It is truly baffling how a bar in such a prime location (at Front and South Streets) and with such a history has become such a disaster.
City officials have also claimed that the owner of the bar owes over $125,000 in back taxes, and Spike TV announced a few months ago that Downey's would be featured on their series entitled Bar Rescue; the producers apparently appreciate the history of the establishment. Numerous employees have claimed that they were not paid for their work and a number of lawsuits have been brought against the owner in recent weeks.
Let's hope something positive, whether it is the resurgence of Downey's or a new bar or restaurant altogether, comes to Front and South.
---
Chase is the Market Research guy at Drink Philly. Born in North Carolina and raised in Maryland he has since fallen in love with Philly and has been known to enjoy red wine and craft beer (especially tripels, saisons, and stouts). Chase also particularly enjoys Indian, Ethiopian and Thai food (thank you, West Philly). When he's not at the Drink Philly office, there is a good chance he is listening to records, playing chess, grilling, or re-watching The Wire... again.
chase@philly.thedrinknation.com
---
Related Articles:
Recent Articles

Feedback
How are we doing? Tell us what you like or don't like and how we can improve. We would love to hear your thoughts!