Friday the Firkinteenth at Grey Lodge Pub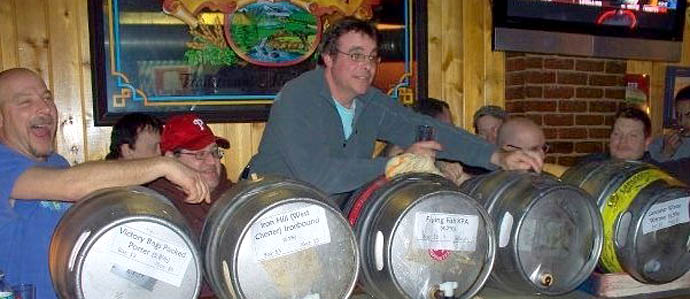 For the 27th time in more than 14 years, this weekend Northeast Philly's Grey Lodge Pub will celebrate a Friday that falls on the thirteenth of the month with a smorgasbord of cask-conditioned ales. Wrenching the bedeviled date from the likes of black cats, publican Mike "Scoats" Scotese makes the day into a beer geek's dream with Friday the Firkinteenth.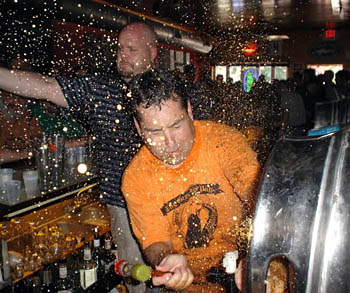 What's a firkin, and why should drinkers get excited? A firkin is a cask that has been supplemented with extra hops, sugars or wort so that it can continue fermenting while waiting to be drunk. The barrel is then tapped directly with a hand-pump and poured without the use of added carbonation. The deep flavors and natural fizziness of these brews are prized. Once opened, the shelf-life of each is just a few days, so obtaining tastes of these beers is relatively rare.

Grey Lodge has 25 special firkins lined up for this Friday, including gets from local breweries like Evil Genius (Apple Pumpkin Porter), Nodding Head (Grog) and Free Will (Hop Geek Imperial IPA+) along with several more. Tapping begins at noon, with seven firkins pouring at any one time. As soon as one kicks, a bell rings, an angel gets its wings, and a new beer is opened.

The barrel-happy event will continue throughout the day, with the current beer selection updated via signs at the pub's door as well as on their Twitter feed and news page. Scoats expects the brews to keep flowing through at least 9 PM. Food will be served throughout the day on the second floor only, and the whole operation will go cash-only for the special event.

This Friday, embrace superstition and come get your beer!
Event Date: 07/13
Event Time: noon-9 PM
Location: Grey Lodge Pub
Price: PAYG
Website: greylodge.com/fri13th.html

Recent Articles

Feedback
How are we doing? Tell us what you like or don't like and how we can improve. We would love to hear your thoughts!