Beer Review: Mikkeller Ris a la M'ale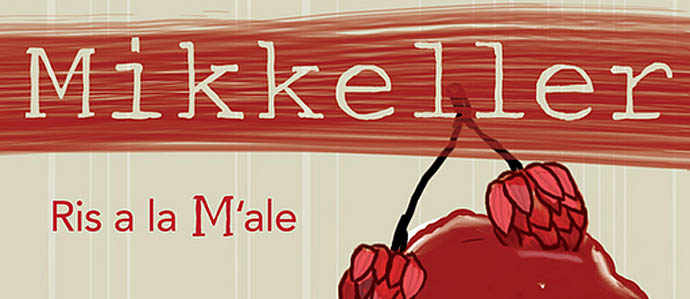 As we head into the heart of winter, there are plenty of dark stouts, porters and strong ales around to whet the appetites of craft beer enthusiasts gearing up for the cold. Mikkeller, a prolific gypsy brewery from Denmark, offers a recent release that is a refreshing alternative to the typical dark and heavy ale of the season. Ris a la M'ale is a light, tart cherry beer aimed at satisfying the sweet tooth. This dessert beer is modeled after a traditional Danish dessert called risalamande. Each ingredient from the dessert is used in the brewing process, including rice, salt, sugar, vanilla, milk, cream and almond and cherry extract.
Poured on tap or from a bottle, Ris a la M'ale has an expected pinkish hue with a slightly cloudy haze. The scent is of tart cherries and vanilla with a nutty undertone. The first sip provides a piquant bite of sour cherry with a refreshingly clean finish. As you drink through the entire pour, the acid yields to a mellower, fruity flavor with a greater presence of almond, especially on the edge of the tongue. This pleasantly carbonated brew is relatively dry for a fruit beer, with the tartness lingering longest. Despite being a rather strong beer at 8% ABV, Ris a la M'ale does not have a strong alcohol flavor in its profile.

The talented brewers of Mikkeller – who travel from brewery to brewery without a home base – are well-known for experimentation and extreme flavors, and Ris a la M'ale is one of their more successful experiments. Just like this dish that gave rise to it, this brew is perfect for after dinner or as a light, fruity nightcap.
Recent Articles

Feedback
How are we doing? Tell us what you like or don't like and how we can improve. We would love to hear your thoughts!