Homebrewers Association, Top 50 Beers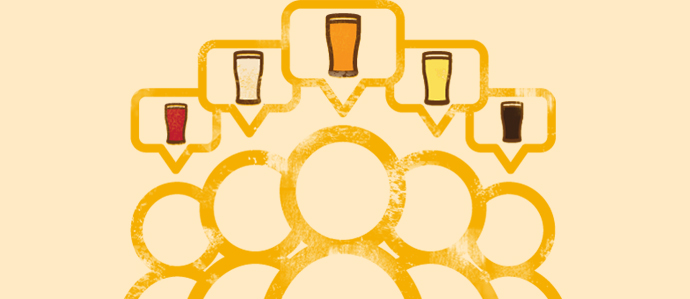 The American Homebrewers Association has recently compiled a list of the top 50 craft beers, after asking the readers of Zymurgy to submit their favorite 20. For the third year running, Russian River's Pliny the Elder tops the charts. What's truly amazing is how many beers are tied for various positions throughout the list.
Check below for the complete list!
(T indicates tie)
1. Russian River Pliny the Elder
2. Bell's Two Hearted Ale
T3. Dogfish Head 90 Minute IPA
T3. Founders Kentucky Breakfast Stout
5. Bell's Hopslam
6. Stone Arrogant Bastard
7. Sierra Nevada Celebration
T8. Sierra Nevada Torpedo
T8. Stone Ruination
10. Sierra Nevada Pale Ale
11. Stone Sublimely Self Righteous
12. Sierra Nevada Bigfoot Barleywine
13. Goose Island Bourbon County Stout
T14. Great Lakes Edmund Fitzgerald Porter
T14. Oskar Blues Dale's Pale Ale
T16. Dogfish Head 60 Minute IPA
T16. New Glarus Belgian Red
18. North Coast Old Rasputin
19. Bell's Expedition Stout
T20. Deschutes The Abyss
T20. Left Hand Milk Stout
T20. Odell IPA
T20. Samuel Adams Noble Pils
T20. Surly Furious
T20. Troegs Nugget Nectar
T26. Rogue Dead Guy Ale
T26. Samuel Adams Boston Lager
28. Anchor Steam
T29. Bear Republic Racer 5
T29. Ommegang Three Philosophers
T29. Oskar Blues Ten Fidy
T29. Three Floyds Alpha King
T29. Three Floyds Dark Lord
T34. Avery Maharaja
T34. Dogfish Head Indian Brown
T34. Dogfish Head Palo Santo Marron
T34. Three Floyds Gumballhead
T38. Dogfish Head 120 Minute IPA
T38. Lost Abbey Angel's Share
T38. New Belgium La Folie
T38. New Belgium Ranger
T38. Oskar Blues Old Chub
T43. Ballast Point Sculpin IPA
T43. Great Divide Yeti
T43. New Belgium 1554
T43. Russian River Blind Pig
T43. Ska Modus Hoperandi
T48. Alesmith Speedway Stout
T48. Dark Horse Crooked Tree
T48. Green Flash West Coast IPA
T48. Summit EPA
T48. Victory Prima Pils
If you thought this list was awesome, they've also listed the choices for Top Brewery! Check it!
1. Dogfish Head Craft Brewery, Milton, Del.
2. Bell's Brewery, Kalamazoo, Mich.
3. Sierra Nevada Brewing Co., Chico, Calif.
4. Stone Brewing Co., Escondido, Calif.
5. Russian River Brewing Co., Santa Rosa, Calif.
6. Founders Brewing Co., Grand Rapids, Mich.
7. New Belgium Brewing Co., Fort Collins, Colo.
8. Boston Beer Co. (Samuel Adams), Boston, Mass.
9. Three Floyds Brewing Co., Munster, Ind.
10. Oskar Blues Brewing Co., Longmont, Colo.
11. Goose Island Beer Co., Chicago, Ill.
T12. Lagunitas Brewing Co., Petaluma, Calif.
T12. New Glarus Brewing Co., New Glarus, Wis.
14. Deschutes Brewery, Bend, Ore.
15. Great Lakes Brewing Co., Cleveland, Ohio
16. Odell Brewing Co., Fort Collins, Colo.
17. Avery Brewing Co., Boulder, Colo.
18. Great Divide Brewing Co., Denver, Colo.
19. Victory Brewing Co., Downington, Pa.
20. Surly Brewing Co., Minneapolis, Minn.
21. Rogue Ales, Newport, Ore.
22. Firestone Walker Brewing Co., Paso Robles, Calif.
T23. Brooklyn Brewery, Brooklyn, N.Y.
T23. North Coast Brewing Co., Fort Bragg, Calif.
T24. Bear Republic Brewing Co., Healdsburg, Calif.
T24. Left Hand Brewing Co., Longmont, Colo.
---
Related Articles:
GIRLS LIKE PINK BOYS LIKE BLUE: Molson Makes a Beer For Women
Uses for Wine... In Space
Recent Articles

Feedback
How are we doing? Tell us what you like or don't like and how we can improve. We would love to hear your thoughts!