Gems for Drinkers at New Spanish Tapas Bar Jamonera in Midtown Village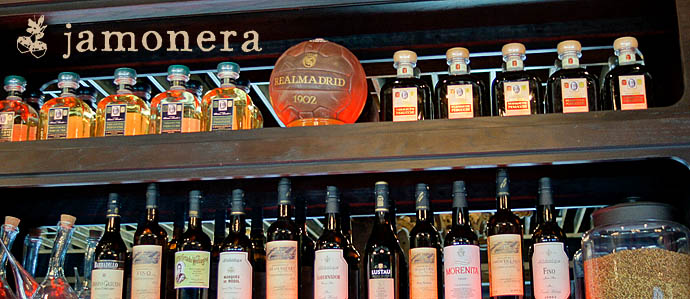 Marcie Turney and Valerie Safran are well known for their tasty eats, from rich modern Mexican at Lolita to addictive Mediterranean bites at Barbuzzo to creative, decadent chocolates from Verde. But Spanish tapas bar Jamonera – the newest addition to the buzzing 13th Street corridor the couple helped revitalize – holds much of interest for drinkers as well.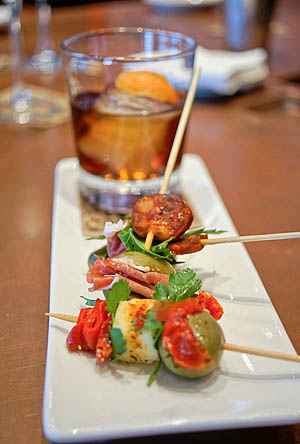 At a sneak peak prior to their January 22 opening, we were able to check out some of the unique beverage offerings at the red-toned, wood-bedecked room, which showcases a mural depicting Carmen and old clippings of bullfighters. The Sevillian theme continues when you glance behind the bar and glimpse a row of fine vermouth. Poured into a glass with a large, cylindrical ice cube and garnished with an orange peel, Vermouth Perucchi will remove any reservations you may have about sipping this fortified wine straight.

"Everywhere we went, people were drinking vermouth with their tapas," Turney said, "When I finally tried it, I loved it." The libation actually makes an appearance on the food menu, served on a platter with bandarillas – Spanish skewers holding tastes of jamon stuffed olives, salty boquerones, smoked tomatoes and more – and it's a perfect pairing. Alternately, the red or white vermouth can be ordered alone for just $7 a glass. As bar manager Terrence Lewis noted, "When something's new or different, you have to price it very reasonably, or no one will try it!"

Also unfamiliar to American palates are the sherries that Spanish drinkers swear by, of which a great variety are available at Jamonera. They join a large list of Iberian red and white wines, available by the glass from $9 and by the bottle from $42. On the beer side, there are no taps, but a selection of bottles holds a few interesting gems. Alongside several American craft brew options are two Spanish ciders. One is Basque favorite Isategi Sagardo Naturala, priced to sell at $18 for a 375-ml. bottle (if you can find one in a retail store you'll pay $11 or more), and the other Trabanco Cosecha Propia, a naturally fermented sparkler made on an old estate in the Asturias region of Spain.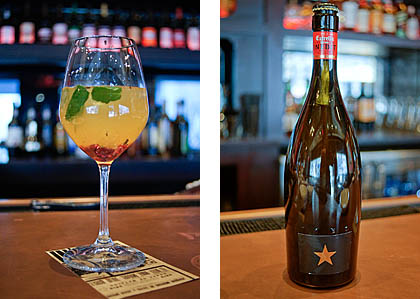 The most exciting fermented offering on the list may be the Estrella Damm Inedit. This combination eurolager/witbier was commissioned for Ferran Adria, who had refused to serve any beer at his flagship restaurant, El Bulli. The brewers at Estrella Damm took issue with this exclusion, so invited the world-renowned chef to collaborate on the perfect brew, one that would highlight fantastic food just as well or better than any wine. The result is bright and refreshing, like a (much) more flavorful Champagne. The 750-ml. bottle goes for just $25.

Cocktails should not be overlooked, either, as Turney's deft touch with flavor and spice comes in to play. Sangrias are mixed in house and will be a popular choice once the 20 outdoor seats along the sidewalk join the 40 inside. In one version we tried, pomegranate seeds and fresh mint played with citrus and a finishing splash of Cava to provide a refreshingly tasty sip.

There is no happy hour at the elegant yet comfortable spot, but that won't keep the crowds from flocking to the long, copper-topped bar, sampling tapas and sharing plates, and drinking spirits that complement the food well. Spend a few hours imbibing inside the dark, glowing room, and you might even feel transported to Spain. Jamonera is open 5–11 PM, Sunday–Thursday and 5 PM–midnight on the weekends.

105 S. 13th St.; 215-922-6061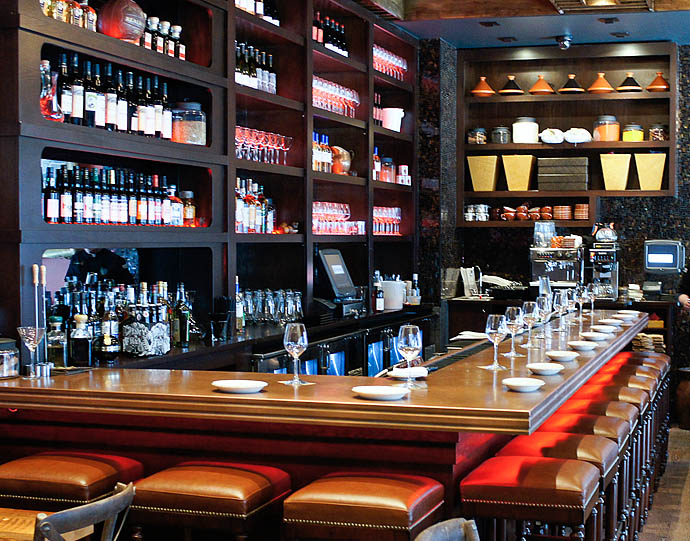 Photos by Danya Henninger
Recent Articles

Feedback
How are we doing? Tell us what you like or don't like and how we can improve. We would love to hear your thoughts!