Finding Shelter from the Storm at Fado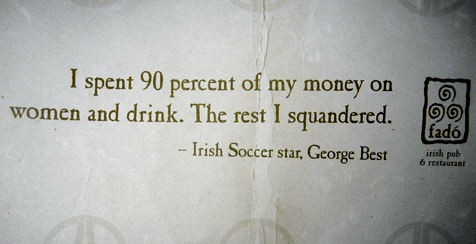 When you're stuck in your apartment for three days straight and about to go stir-crazy, the only real logical thing to do is go to a bar. So this Thursday I decided to brave the aftermath of the blizzard and trek out just a few blocks past City Hall to Fado at the corner of 15th and Locust.
I felt quite welcome as I entered this modern Irish pub and was greeted by a very cheerful hostess. I was looking for a place to warm up on this cold snow day, but as I soon found out, the bar's heat was broken. Womp womp. To me, this seemed like the end of the world, as I was already shivering from the brisk winter air. But as I sat down with some friends in a cozy corner booth, I could hardly notice the lack of heat. The fireplace in the corner, the dim and relaxed atmosphere, the friendly staff, and of course the beer in my hand, created more than enough warmth and cheer.
I arrived in time for their Happy Hour, which is from 4 to 7 PM Monday through Friday, and was ecstatic to find their happy hour small plates menu, which provided a variety of appetizers for only $6 each. As I read on, I realized you could order five of these happy hour small plates for only $25. I was pretty hungry, but decided to go for the chicken boxty small plate.
Now, I had no idea what a "boxty" was, but I decided that I would try it, since it was advertised as a "traditional Irish dish". This ended up being a fabulous decision, as I soon discovered that "boxty" is an Irish potato pancake, and that it made my mouth very happy. What made my mouth and I even more happy were the cheese wedges that I decided to order off of the appetizer section in the regular menu. They were so addicting that I will probably need to enter a 12-step program or risk getting high cholesterol. Seriously, I can't stop eating these. Later, I found out that the wedges were boxty wedges! Moral of the story? When you go to Fado, order anything with boxty.
The drinks specials offered during happy hour went perfectly with my boxty: four dollar pints of Harp, New Castle, and Harpoon ??" three different tastes to appeal to all. I prefer lager, so I went with the Harp and was quite pleased. For fewer than fifteen dollars during happy hour you can get two pints and a small plate. I'd say that's pretty impressive. What was equally impressive was the fun modern Irish music they were playing ??" not too loud or too soft, but just right. I felt like I was in a completely different place ??" Ireland perhaps?
What was also great about Fado was that as I sat in my corner cozy booth, my friends and I had a great deal of privacy. I stayed long after happy hour ended, and it wasn't until I got up to leave that I realized how crowded the bar actually was. Patrons were sitting at the bar, at tables, and even standing around; and there were still empty tables!
I then found out that at 9 PM on Thursdays is when live bands come to play. And if you're into sports like soccer and rugby, there is no doubt that they'll be on the TV's at the bar. On Wednesdays you can try your luck at Quizzo, and on the weekends you can show your moves on the dance floor while the DJ plays.
A great happy hour, great atmosphere, and great events? I'll definitely be back to Fado. And next time, I might have to get some boxty to go.
Recent Articles

Feedback
How are we doing? Tell us what you like or don't like and how we can improve. We would love to hear your thoughts!