Booze Bartering: A Post-Apocalyptic Guide
Because our gov't can't get its @#$% together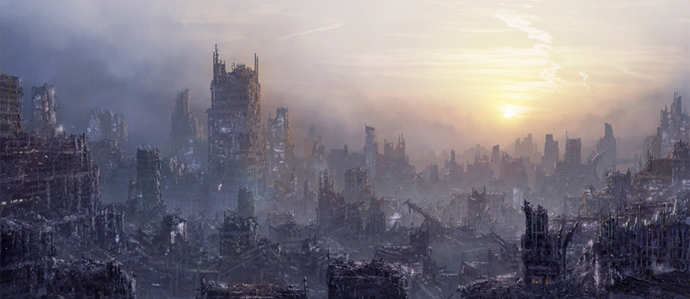 Although we're hoping for the best possible financial outcome August 2nd with this whole debt ceiling thing, we feel it's best to prepare for the worst case scenario in the event our money suddenly crumbles to powder.
To help things out, we've compiled a short list of some select types of alcohol and its post-apocalyptic worth. To do this, we asked people what practical items they would trade a select alcoholic item for.
On our basic checklist:
Food
Water
Defense (Ninja Sword preferably)
Possible transport
Medical Supplies
---
One Can of Budweiser = One Band-Aid (Or some scotch tape + square of gauze)
Alright - Band-Aid guy wins this one for having a trade material that's more delicious.

Two forties of Olde English = A couple of "lightly used" 2008 Hoagiefest T-Shirts
Hey man - 2008 is vintage. Don't you remember that magical summer when Hoagiefest began?

Case of Bluecoat Gin = A bicycle
We're just guessing the roads are going to turn into outright chaos, so taking a note from the movies, we're assuming bikes are going to be really, really valuable when it comes to maneuvering long distances (especially in outrunning zombies).

Sixtel of Russian River's Supplication = One slain bear (cleaned and prepared)
We feel that this one's pretty justified. This much food, combined with the bear pelts to keep you warm is a pretty fair trade for some beers from one of America's top breweries.

$70,000 in $100 Bills = A shot. Maybe two.
At best, your money will be worth approximately the same as kindling. Last time we were out camping, bundles of kindling went for around $3-4, so... this seems about right.

$70,000 in $1 Bills = More shots than those paltry Benjamins would have yielded.
We said our money would be good for kindling. In post-apocalypse crazyland, your small bills are worth even more than the big guys based on volume alone!

One bottle of decent tequila = Three pheasants
When we asked a friend about why this would be a fair trade, she said, "Two words: Pheasant eggs." I'm not really thrilled at the prospect, but she had a point.

A cask of Victory's Dark Intrigue = A totally sweet ninja sword.
This stuff is worth at *least* one authentic Japanese katana. The seasonal experiment will be ready sometime around October or November if memory serves us correctly - just enough time for you sword enthusiasts to track one of these bad boys down.
Let's also not forget that beer and wine can be healthy as well, and would act as a supplement to help water supplies go further.
So, the question becomes - what will you stockpile when booze is our most valuable currency? Comment below!
Recent Articles

Feedback
How are we doing? Tell us what you like or don't like and how we can improve. We would love to hear your thoughts!