Beer Review: LoverBeer D'uvaBeer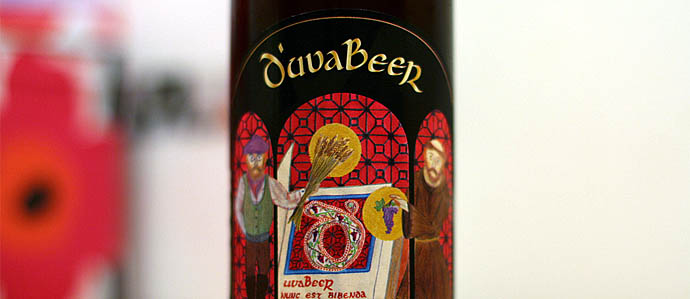 Italy, known for its delectable food and fine wine, has in recent years experienced a craft beer boom. A quote from one Italian brewer in a recent Wall Street Journal article notes Italian breweries "don't have a heavy beer culture on our shoulders, so we are free to experiment." At the moment 280 breweries exist in Italy with many new, exciting beers making their way to our American shores. One such brewery is LoverBeer, founded in 2010 by Valter Loverier.

Loverier's first several releases have been well-received. One recent addition to the portfolio is D'uvaBeer, a fruit-infused sour ale offered in a sleek 11.2-oz. bottle. Poured into a wine glass, d'uvaBeer has almost no head or visible carbonation, which draws attention to its hazy, somewhat cloudy red color. Upon first sight, the beer looks much like some mysterious light red wine.

This mystery continues once you take a whiff – the scent is full of fruits, especially musty grapes and berries, accompanied by a hint of pine, and in fact the beer is fermented with must from blue-black Freisa grapes. This is a beer to be savored, as each sip offers a different combination of sweet, sour and dry tastes, balanced by the fruits found in the nose. Those afraid of sour beers will be relieved to find that this beer sharp but never tart, making for very smooth drinking.

LoverBeer has a few other labels now hitting the American market, all of which are worth a try for any curious enthusiast. Italian craft beer is becoming a key fixture in many new restaurants and beer menus in cities with established craft beer cultures. However, the price tag of many of these imports means they may be best shared with a fellow connoisseur or saved for a special occasion. Sticker shock aside, LoverBeer and their d'uvaBeer show much promise and stand firmly in place with their Italian craft beer brethren.
Photo via Flickr user cogocogo
Recent Articles

Feedback
How are we doing? Tell us what you like or don't like and how we can improve. We would love to hear your thoughts!