Was Victory Beer the Inspiration for the Logo of NBC's The Voice?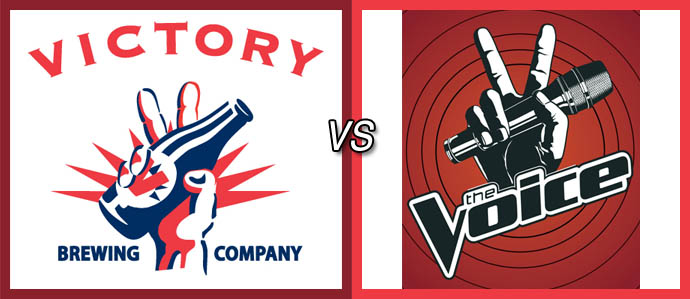 Although the debut happened over a few short months last summer, most of us became aware of reality show The Voice just recently, thanks to NBC's positioning of the season premiere directly after the conclusion of Super Bowl XLVI. Promos for the singing talent contest were shown throughout the sports broadcast, all featuring the logo for the series: a raised hand, holding a microphone, with the index and middle fingers held aloft in the well-known "V for Victory" sign.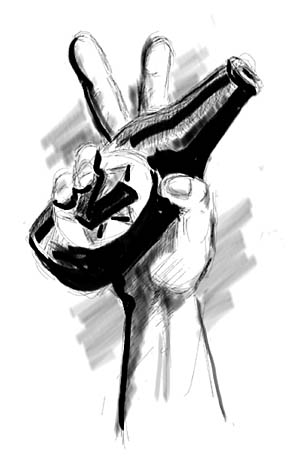 If you're a craft beer fan, the image may have looked familiar – extremely familiar. Downingtown, PA-based Victory Brewing Company has used a strikingly similar image as its logo since its founding. The brewery's logo was based on a 1994 sketch by president and brewmaster Bill Covaleski.
The two designs have more than a bit in common. Of course, the hand signal was originally popularized by Winston Churchill, and has been used for over 50 years. But the likeness continues through the angle of the bottle/microphone in the hands' grasp, as well as the way the other fingers are wrapped around it. So, was the Victory logo the inspiration for The Voice emblem? It doesn't seem out of the question.
"Imitation is the sincerest form of flattery," Victory's communications director, Karen Noonan, told us. "We will just assume that the creative director for the show is a huge Victory Beer fan and wanted to pay tribute to our fine brews."
After Noonan noticed the semblance, she posted a comparison image via the company's Facebook and Twitter accounts. The tweet, in which she mentioned the TV show's official account, was extremely popular, garnering 111 retweets in under three hours.
Despite fans of Victory Beer clamoring for a lawsuit or a royalties check, Noonan says there are no plans to carry the issue forward. Other than the tweet referenced above, she does not intend to contact NBC or the show's producers about the issue. The general feeling at Victory is one of amusement, not annoyance. (The Drink Nation reached out to NBC this morning; we have not yet received a response.)
As it turns out, the U.S. TV show is part of an international series, all based on the original Dutch program The Voice of Holland*, which used a version of the same logo as its calling card. Does this mean Victory Beer has devoted fans who produce TV shows in the Netherlands? Sounds about right to us.
*Thanks to friend of The Drink Nation Dan McQuade for pointing this out
Recent Articles

Feedback
How are we doing? Tell us what you like or don't like and how we can improve. We would love to hear your thoughts!