Wine Challenge: What To Drink With A Cheesesteak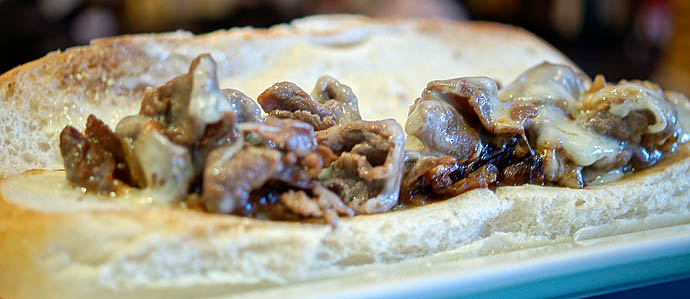 The cheesesteak. Here in Philly, we are blessed with the real deal, not some beef and cheddar sandwich that tries to pass itself off as authentic. More than just late-night, post-drunk mouth-stuffers (although they do pretty well in that regard, too), a cheesesteak here can be a respectable meal. As such, we got to wondering what wine would pair best with the city's iconic sandwich.

Champagne?

It has been suggested, on more than one occasion, that the proper vinous accompaniment is Champagne; even Barclay Prime's infamous $100 "cheesesteak" (it gets quotes because it comes with foie gras, truffles, and other non-faithful ingredients) comes with a mini bottle of bubbly on the side. To us, this pairing doesn't make sense. Just thinking about the delicate flavors of Champagne is difficult if you start imagining the thick, gooey mess that comes with each bite of a properly constructed sandwich.

Ask the Experts

We asked a few local experts to weigh in. "Yes, Champagne goes with everything," Philadelphia Inquirer food and wine critic Craig LaBan wrote to us, "but I don't think that's the drink that will really help take a great cheesesteak to the next level." So, what would he recommend?

Noting we caught him just days prior to his grand expedition to Belgium with the Philly Beer Week crew, he offered simply a bit of quick, off-the-cuff advice: his inclination would be to choose something "red and rustic," ideally American, that wouldn't "show up the steak with some big ticket pedigree."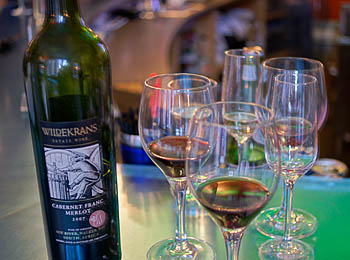 Keith Wallace, founder of The Wine School of Philadelphia, offered another suggestion. "The fat [would] totally overpower Champagne," he said via email, "A cheesesteak and Champagne pairing is more about being hip and rebellious than actually being any good. If you want the best pairing, you need concentration of acids and alcohol to overcome the fat content, plus a very aggressive flavor profile that will play nice with the bland white bread. That would be either a Chateauneuf du Pape Blanc, or a similar white wine (a Grenache blanc and/or Roussanne based wine) from Santa Barbara in California."

After one recommendation from an expert for red and one from an expert for white, we realized that the answer is pretty personal. Tto determine our own favorite matchup, we would have to do some actual tasting.

Taste Testing

To accomplish this, we headed to Jet Wine Bar to take advantage of the wide variety of varietals proprietor (and globe-trotting archaeologist) Jill Weber has assembled. A dizzying array of wines was lined up to accompany the cheesesteaks, spanning a myriad of regions and styles.

The Whites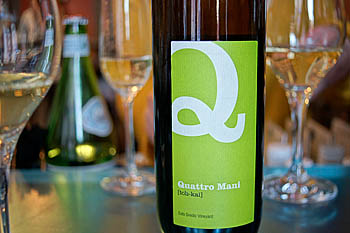 First order of business: checking on the hype. In place of Champagne, we tried the Spanish sparkler Love Over Money Basca. Though the Cava was extremely pleasant on its own, sipped after the sandwich it had a "weird finish." Similarly, Quattro Mani [toh-kai], a juicy, floral white from Slovenia, lost all of its character when pitted against the meat, and ended with an almost vinegary off-note.

Paul & Philippe Zinck Crement d'Alsace, a French sparkling white made in the methode champenoise, showed promise, but the bit of fruit that made it through the cheese and beef made for a flavor that wasn't very pleasant, like a muddy brown appearing instead of a rich maroon when mixing up paint. Even Argiolas Costamolino Vermentino, described by critics as "made for food," did not match up well, resulting in tasting notes that included "briney," "oily" and "too bitter."

The one white that stood up to the cheesesteak was, appropriately, a local option. Sparkling Chardonnay from Coatesville, PA's Stargazers lent "acid and backbone to the meat without altering the flavor," Weber observed. Just like Keith Wallace suggested!

The Reds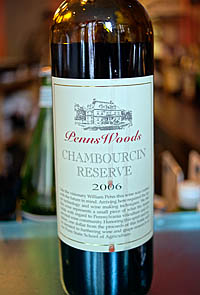 We moved on to reds. The extremely firm tannins and dark flavors of South Africa's Wildekrans Cabernet Franc Merlot left us wishing it was paired with a sweet dish, such as cheese with fig jam, not cheese with salty beef. The Lebanese Chateau Musar Jeune Rouge had such a strong character that it almost overwhelmed the sandwich, which is not on its own very complex.

Along local lines, a Chambourcin from Chadds Ford's Penns Woods Winery was poured. The peppery spice was a complement to the food, but the earthy plum notes added their own fruity flavor to the mix; the end result wasn't all that cheesesteak-y. It was akin to adding sauteed mushrooms or peppers to the sandwich (and in fact, it did go very well with a version that had those additional – though not traditional – veggies).

We found our favorite in Chateau d'Oupia Les Heretiques vin de pays de l'Herault, made in France from a blend of Carginan and Syrah grapes. Rustic, without a big-ticket pedigree? Yes. Though the producer also makes more fanciful wines from their nearly 100-year-old vines, this is a table wine.

Les Heretiques has no complex structure waiting to be crushed by the simple-yet-strong taste of a cheesesteak, but provides a rich – almost guttural – scent, along with just enough tannin. It cut through the fat, adding a bright acid counter-note. The best part about this pairing was the finish, which, after a satisfying earthiness, almost disappeared. No lingering heaviness of meat and cheese hung on the tongue, nor was there an overwhelming bitterness from the wine. Each bite-and-sip combo practically acted as its own palate cleanser.

Fundamentally, wine pairing will always come down to personal preference. After all, each person's taste is different – no two tongues are alike. Give wine and cheesesteak a try, and let us know what wins your vote for best match.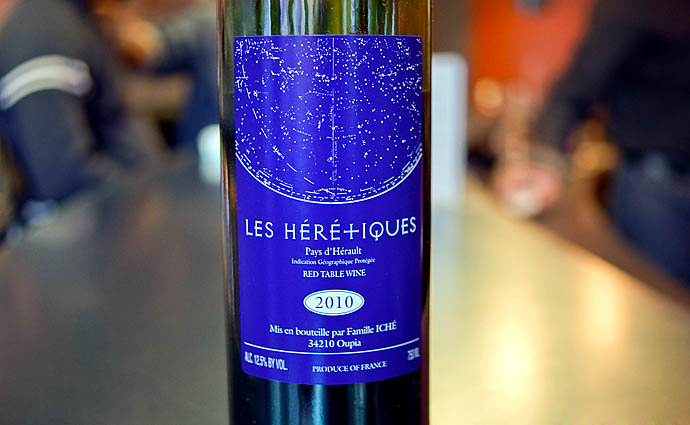 Photos by Danya Henninger; special thanks to Jet Wine Bar
Recent Articles

Feedback
How are we doing? Tell us what you like or don't like and how we can improve. We would love to hear your thoughts!