Jon's Side Splitting Roots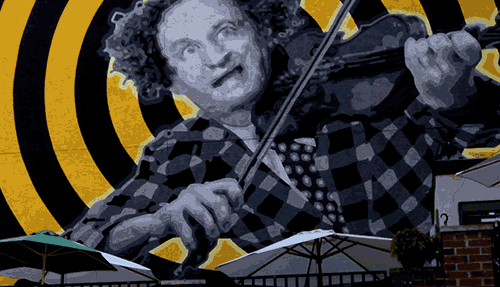 On the corner of 3rd and South resides Jon's Bar and Grill. A family owned business, Jon's was established 1982 and has been acknowledged for its calm yet entertaining environment as it has been catering to Philadelphians and travelers alike for years. Its claim to fame dates all the way back to 1902 where on the third floor apartment of Jon's, Lawrence Feinberg, better known as Larry Fine of "The Three Stooges", was born. As a result, Jon's Bar and Grill flaunts this fun fact with pictures and murals of Larry Fine coating the walls, along with other retro-style portraits and lighting.
Upon walking in the entrance of Jon's off 3rd street, we are greeted and order two Yuengling drafts from the bartender. He told us of the bar's history including that of Larry Fine. Intrigued, we walk through the large banquet area equipped with mounted flat screens and seating and on to the patio where we find a table looking over South Street.
Enduring a light conversation, we people watch as South Street's vibrant world passes by. Jon's has two patios with seating; providing the perfect atmosphere for an outdoor happy hour with friends or reunion with family. Their menu offers an array of starters, dinners, and deserts, including nothing less than impressive nachos and signature burgers.
We examine the drink menu. Jon's presents an inspiring selection of martinis, margaritas, beers, wines and novelty drinks that is quite notable. Though we settle for another Lager, our yearning for a "Jamaican Me Crazy" or a "Banana Jammer" lingers. Finally, we give in and indulge ourselves with two Hurricanes, which include three Bacardi rums, sour mix, pineapple juice and Grenadine.
Regulars and first-timers fill the patio as they treat themselves to a drink and chat with new and old friends. Smiles and laughter echoes through South Street as people walking by admire Jon's multi-level restaurant littered with people enjoying drinks and fresh air. There is no doubt in our mind, after experiencing it for ourselves, that Jon's Bar and Grill epitomizes the animated culture of South Street. Fitting how the birthplace of one of America's most renowned comics stays true to form in its ambiance. So we drink to Larry Fine as we polish off our Hurricanes, and walking out the way we came in, we knew that we will be back for more.
Recent Articles

Feedback
How are we doing? Tell us what you like or don't like and how we can improve. We would love to hear your thoughts!