Beercamp 2012 Rocks A Pop-Up Book Website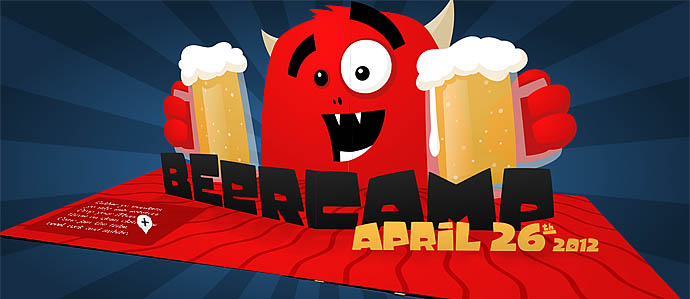 We're not entirely certain what BeerCamp is (an international gathering of tech folks who like drinking beer, perhaps?), but what we do know is this: it has a killer website. Apparently taking place in Poland on April 26, the event site is a 3-D, interactive pop-up book.

Visitors turn the pages by grabbing an edge of the "book" with a mouse-click, revealing several pages of sharp, SVG (vector) graphics depicting monsters drinking brews and having fun. A small amount of information is provided in text form, made readable with another click. Twist and turn each page to soak in the changing perspective of the seemingly solid images, thanks to clever use of CSS transforms.

The site is the work of boutique D.C.-based agency nclud, who are no strangers to successful experimental design. Their creation for last year's BeerCamp, held in Austin during South by Southwest, was an innovative use of nested pages, which zoom in and out of view as you scroll like Inception dream levels.

What's the event itself? File that one under "don't know, don't care." Assuming it's all about the website, these guys are doing it right.
Recent Articles

Feedback
How are we doing? Tell us what you like or don't like and how we can improve. We would love to hear your thoughts!