Kalimotxo - Red Wine with Coca Cola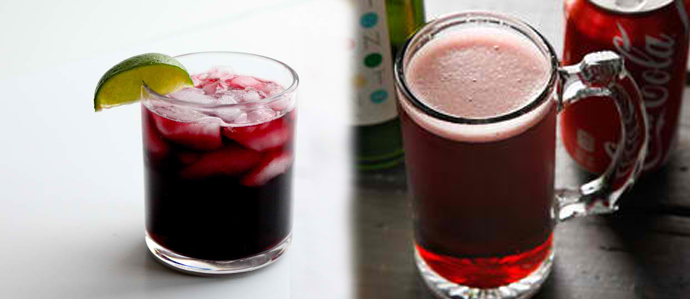 Unless you were lounging around Spain recently (and if so, we are terribly jealous), the term kalimotxo (cali-mocho) probably doesn't ring a bell for you. And that's no surprise. Despite my best Google searching and harassment of friends "in the know," I couldn't find one Philadelphia-area restaurant with it on the menu.
Then again, that's no surprise. As a wine gal, I take wine seriously. I don't drink the bad stuff if I can help it. And I don't encourage others to, either. I am sorry, but I will not condone your choice of white zinfandel or anything by Yellowtail. Can't do it.
So why then, would I introduce you, dear readers, to kalimotxo -- a beverage one can only describe as a desperate attempt to upgrade horrible wine into barely drinkable wine? Let's say this one is in the name of education.
Like many cocktails, the origins of this mixture are muddy, but we know it gained popularity in the 70s. The legend goes that at a festival, a vendor took a sip of the red wine he was hawking and realized it was bad. Really bad. Lost, he mixed equal parts of the wine and a bottle of Coca Cola he had nearby, threw in some ice, and sold that instead. And people drank it.
The resulting blend, as you can guess, is super sweet. It's a little syrupy, a little fruity and a lot unusual. My husband, who enjoys waxing sentimental about his time studying abroad in Barcelona years ago, describes it as something akin to a "chocolate-covered fruit dessert."
While Americans never got on the bandwagons and brought the drink to our bar menus, lots of countries sell oodles of it, including Chile, Bosnia, the Czech Republic and Germany. It's cheap and simple, and since it's pretty easy to drink, its become quite popular with the younger crowds.
Wanna give it a go? While, as I mentioned, you won't find it on a menu, I wouldn't be surprised if a barkeep at an area Spanish restaurant would be willing to mix up a glass for you. Or you can DIY, mixing equal parts of red wine (go with an affordable rioja that is drinkable on its own but not so lovely that you'd be ruining it with this recipe) and Coke into a one-liter pitcher -- what the cool Spanish kids call a "mini." Serve in tumblers or highballs over packed ice.
---
Melissa Auman Greiner is a born and bred Philly girl with a soft spot for the city's growing food and wine scenes, leafy green squares and sultry summers. Just don't get her started on the inadequacy of SEPTA. With nearly 10 years of experience covering the city for a variety of newspapers, magazines and websites, it hasn't just been her pleasure to visit Philly's best bars and restaurants -- it's been her job. And with an advanced certification from the International Sommelier Guild under her belt, she brings her city savvy and wine know-how together to deliver Drink Philly readers the latest info on Philly vino.
---
Related Articles:
Recent Articles

Feedback
How are we doing? Tell us what you like or don't like and how we can improve. We would love to hear your thoughts!