Victory Brewing Company To Open Second Brewery Location
Parkesburg, PA is the selected site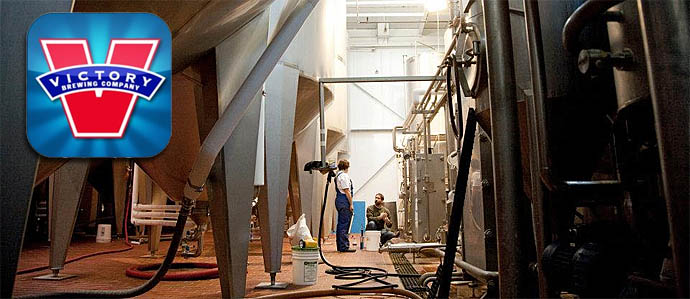 Craft beer fans, get ready to cheer: Victory Brewing Company has just announced it will open a second brewery in Parkesburg, PA, to keep up with demand for its varied line of creative beers.

The new location will have the capacity to brew batches of 200 barrels (with a total capcity of 200,000 bbls), compared to the current brewery's batch capacity of 50 bbls and total capacity of 120,000 bbls. Once up and running, the new facility will take care of brewing most of the company's flagship beers, and the Downingtown, PA location will be dedicated to experimentation and limited-edition draft products.

"Growing into a new facility will have some growing pains," said Ron Barchet, CEO and co-brewmaster at Victory. "But once we are up and running, it will allow us endless opportunities to experiment with new flavors and re-create old favorites."

Victory is looking at moving distribution to Parkesburg as soon as this fall, when general construction will begin. Brewhouse construction should start in January of 2013 and will take a few months to complete, during which time much of the additional brewing equipment will be installed. The company is hopeful beer will be flowing from the new operation in the summer of 2013.

Just like the current brewery recycled a defunct Pepperidge Farm factory, the new operation will will built out of an existing industrial complex. In addition to the environmental impact of the facility, a large factor in deciding on the new locale was water quality, a key component of beer's final flavor and texture. Eight months of reasearch and testing found that the water in Parkesburg — 17 miles from the headwaters of the west branch of the Brandywine Creek – is nearly identical in mineral compositon to the water in Downingtown (14 miles from the headwaters of the east branch of the same creek).

Barchet and Victory president and co-brewmaster Bill Covaleski are also excited to bring new employment opportunities to Chester County, in keeping with the company's "locally brewed, locally loved" motto, even though their popular beers are now distributed in 29 states across the country.
Photo via Victory Beer on Facebook
Recent Articles

Feedback
How are we doing? Tell us what you like or don't like and how we can improve. We would love to hear your thoughts!